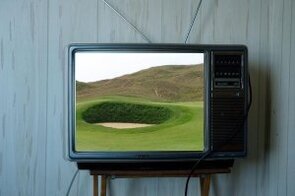 Who Covers Golf The Best?
What network is your favorite to watch a golf tournament? Is it the announcers, event, or the golf technology features that win you over?
Who are your favorite announcers? Least favorite?
What network covers the best events?
What network has the best technology?
Or... does it really only matter WHO is playing in the event?
photo source
photo source
[ comments ]

chris58b says:
I've got to admit i do enjoy the comp when Tiger is playing. However, with Tiger out of the picture for now there is the oportunity for others to shine through E.G Rory McIlroy.
The uk is desprate for a dedicated golf channel showing more highlights etc. There must be enough golfers in the uk to justify the broadcast.
12/29/09
frank1944 says:
just watched the SBS.excellent analysis by faldo,who used to be nearly as ignorant and arrogant as woods,maybe he too will growup and act his age.
1/11/10

SteveTheBogeyman says:
I really don't see much difference between any of the channels, although Jim Nance is head and shoulders above the others as an anchor. I'd like to see all of them focus more on making sure we get to see ALL the golfers, not just the leaders. And Id like to see the ball flight from directly behind the golfer rather than from the side. It would give me a better perspective whether the golfer faded or drew the ball. Also more slo-mo swing analysis would be good.
1/20/10
[ post comment ]