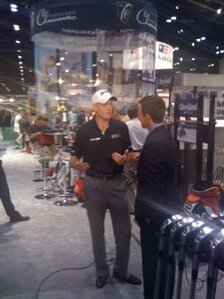 PGA Show - I'm Recovering!
How do you know you've experienced informational overload? You're hungover 2 days after an event (without touching a drop of alcohol)! I had a great time in Orlando last week and I'll have a lot of news and info to bring you over the coming weeks. I owe you guys a post on our new product, the SkyCaddie SGX and it will be forthcoming. I'm going to answer a lot of the initial questions you guys have asked about the new Range Finder and talk a little bit about what separates the SGX from any other GPS device on the market (including other SkyCaddie Range Finders).
Until then, here a couple pictures I was able to take in Orlando. Enjoy!
[ comments ]

HMTrey says:
waiting anxiously............
2/3/10

T. Morris (aka "BlkMamba") says:
Plaid is in! :)
2/11/10

T. Morris (aka "BlkMamba") says:
I think I would like to attend the show next year; i hear it is great to see the new stuff and the advances being made in the golf industry. If your are in the golf business i am sure there was plenty of networking as well as keeping the ol eye on the competitors.
I am sure the release of th next generation sky caddy, its features, the concept of Club SG and other new key technological advances really put a shock to the other systems. You either settle for number one or go without. :)
I too look foward to your comparisons as well.
2/11/10
keith366 says:
That is the longest hangover.....
3/1/10
[ post comment ]