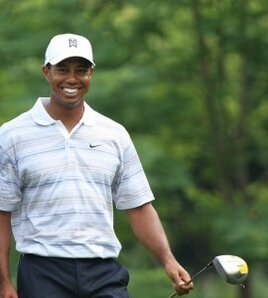 Should Tiger Be a Captain's Pick?
By
mustang6560
on 8/17/10
If you were Corey Pavin, would you use a captain's pick on the No.1 golfer in the world?
Seriously, don't think about
who
that No.1 player is. Assuming he is eligible, would you select the world's best player even if he finished outside of the top eight? If you answered yes, then Tiger Woods should be asked to join the U.S. Ryder Cup team in Wales this fall.
Tiger did not receive an automatic bid for the Ryder Cup because he finished outside the top eight. Now his fate rests in the hands of Pavin, the U.S. Captain. At a news conference on Monday, he had this to say about Tiger.
Pavin would only say that Woods is "high on my list" and will be a "big consideration" when he announces his selections Sept. 7.

"I'm looking at him in essence like any other player. He isn't ... but he is," Pavin said. "I'm certainly not going to disrespect other players by considering him different from other players. I have to look at the way he's playing, the way he played, and I have to look at his body of work as well. If anyone can turn it around quickly, it's him."
I asked the question in this particular way because so many people are not looking at the whole Ryder Cup selection process objectively. In my opinion, the No.1 player in the world should be a shoe in to make the Ryder Cup, especially Tiger Woods.
In case you missed it, ahead of the PGA Championship last week, Jim Gray broke the news that Pavin essentially said Tiger was a no-brainer to make the team. Pavin denied the reports saying Gray misunderstood the conversation the two had. I am not partial to Jim Gray or Corey Pavin, but following their pre-teen
he said-she said
cat fight last week regarding Tiger's selection, why wouldn't I believe Pavin said he was going to select Tiger Woods?
Maybe Pavin doesn't want to admit it to the world yet because he's trying to draw attention to the Ryder Cup. However, we all know Tiger will be in Wales come October.
Full Story
photo course
[ comments ]

JP Harrison says:
Captains pick needs quality and Ryder cup experience. Tiger has got more than enough of both to make his selection automatic.
8/17/10

nbryden says:
I hope that he doesn't pick Tiger because I'm supporting Europe in the Ryder Cup and if the US Team shoots itself in the foot before the competition starts, we'll have an even better chance of winning:-)
What I find depressing about this entire situation, is that regardless of the result of this year's Ryder Cup, the media will focus on the selection/non selection of Tiger Woods as the reason for the result regardless of the fact that his selection previously has had limited impact (when compared to the hype).
8/17/10

Enycee92104 says:
Hopefully he isn't a pick. And I love the guy. I think he's got too much in his head to haave THAT as a factor for poor play. He doesn't have the best record at the Ryder and well, this year STUNK. You can go ahead and pick him but it's doing a major dis-service to the EVENT and the other players that simply have a better game together. A borken AK is better than a Tiger with a thorn in his paw. With all this attention to Internationals taking over the game, if we're to show supremacy--we need our best. Not the best "standard". Sure there's a crowd following but I'm not certain that's a good thing. They're pretty good hecklers across the pond. My two bits.
8/17/10

martin1956 says:
In a single round of four-balls and Foursomes, Tiger is probably still as effective as anyone in the world. If he plays 4 matches he'll probably blow up in one, but he could still get 3 points. I think if he wants to play he should be picked. The Welsh fans will welcome him with open arms even if he is the "enemy" for the week.
If he doesn't want to play, he should be allowed a dignified step backwards.
However....... from a typically selfish European view, I hope they leave him behind, he could have the impact that Darren Clarke had in Ireland and help the US win!
Good luck to the pair of them, Corey for the decision he is going to have to make, and Tiger in getting his life squared up.
8/17/10
complexmom says:
complexmom says:
Yes, Tiger is in every sense of the word....GOLF! If he does not play, I and many others will not watch. Good luck to Tiger!
8/18/10

HMTrey says:
Yep struggling or not if he gets hot he brings a ton to the table. considering all he has been through and the media's constant attempts to butcher him about private affairs I would like to see him. nobody shoots a more exciting 72 than Tiger!!!!!!!! 2 eagles 2 birdies and 6 bogies makes for a wow he could have shot a 57 if he didn't bogie factor lol.
8/18/10

Paul Johnston says:
Tiger is one of Corey's picks. Corey (a family friend) told me on the phone last night who his picks are and Tiger was a definite. He asked me not to tell anyone. Oops....
8/23/10
19peinhopf47 says:
Corey is in a no win situation. If he picks Tiger and the Americans loose the cup it will be Coreys fault for picking Tiger. If he does not pick Tiger and they loose it will be Coreys fault for not picking Tiger. With rewgard to the statement
that if Tiger does not play you will not watch, it begs the question Are you a golf fan or just a tiger fan
8/23/10
[ post comment ]