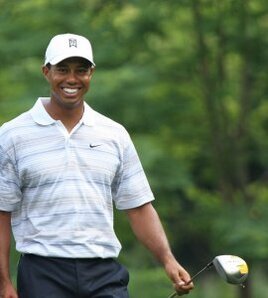 (Sorry- no free pics of McDowell available.)
McDowell Catches Tiger To Win Chevron
It doesn't matter what you think about Tiger- you've got to admit he makes golf more interesting! I watched more golf this weekend than any since the US Open back in June- and it wasn't to see Rory McIlroy make a few birdies here and there. What a finish and what an interesting lead in to the 2011 season!
U.S. Open champion Graeme McDowell capped off his greatest year with two clutch putts that gave him the greatest comeback ever against Tiger Woods.

McDowell holed a 20-foot birdie putt on the final hole to force a playoff Sunday in the Chevron World Challenge, then made another birdie putt from a little longer away to deny Woods a victory in his final tournament of the year.

"It's the stuff of dreams -- 2010 has been the stuff of dreams," McDowell said.
Before anyone teed off on Sunday I figured Tiger had won it. After McDowell hit his ball in the 5 foot weeds on 17 I thought Tiger had won it. After Woods hit his 2nd shot on 18 to 3 feet I KNEW he'd won it. But then something funny happened. Graeme McDowell reminded us that he was the most recent major champion in the twosome. He isn't the same McDowell this would have been in 2009 or before. He was the one draining clutch putts. He was the one dropping 20 feet above the hole on another tee box- hitting a 35 yard flop shot to 6 feet to save bogey. He was the man!
The weekend may eventually be known as the stepping stone for Tiger's return to golf dominance, but to me the weekend was about McDowell's resolve. The 2 strokes he saved on Saturday after hitting a tee shot into a nearby swimming pool and still parring the hole (essentially eagling his 2nd ball), and then the drop/flop and roll on 17 Sunday are what I'll remember.
Still- I wouldn't have watched if Tiger wasn't doing what Tiger does. It's just better for golf.
Full Story
More Analysis
photo source
[ comments ]

fibofan1618 says:
I like seeing Woods loose, I go for the underdog. I'm tired of spoiled tempers. It's just better for golf.
12/7/10

Ceeps15 says:
golf isn't golf with out tiger full stop,he bring a buzz to the game and put golf on the big world map. hope he back 100% in 2011
12/7/10

JP Harrison says:
That final round was one of the best of the year. I was willing GMac to catch Tiger and when he did it was unbelieveable. i've never seen anyone pull Tiger back from that size of lead and they both played 18 with remarkable strength considering the pressure. I couldn't take my eyes off it. And when GMac made his winning putt you could see Tiger was gutted. If 2011 is gonna be like this bring it ON!!!!
12/10/10
martin1956 says:
I don't mind seeing Tiger beaten as G-Mac did, I don't like him loosing when he is a shadow of his former self. I really hope that he hits peak form in 2011, with Westwood and G-Mac and possibly Poulter from this side of the pond we should have a fabulous year, and there are maybe another 3 or 4 who will push him over in the states, and perhaps Rory will regain more form now he back over here.
Yes 2011 is shaping up to be one heck of a year for Golf
12/11/10
[ post comment ]