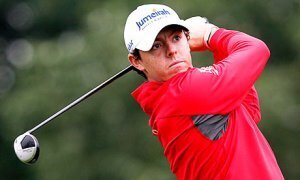 3 Things I Am Happy About Following The PGA Championship
By
mustang6560
on 8/13/12
Rory McIlroy won his second major championship Sunday at the 94th PGA Championship by a record eight strokes. There were several things that made me happy watching the final round at The Ocean Course at Kiawah Island Resort, but I picked the top three to share with you on oobgolf.
Parity is over, at least for now! I was getting really tired of the first-time major winner storyline. It's nice to see someone who was supposed to win actually win a major championship. It was nice to see Bubba Watson win at The Masters, Webb Simpson win at the U.S. Open, and Ernie Els win at The Open Championship, however, none of them were expected to win. Bubba and Webb were first-time winners and Ernie, well, the golf world was ready to write him off before he triumphed at Royal Lytham thanks to an Adam Scott collapse. Rory, like Tiger Woods, is expected to win, so when he does, it makes it that much more impressive.


The media can quit blaming Wozzilroy. Following his victory at the U.S. Open at Congressional last June, Rory started dating tennis star Caroline Wozniacki. At first, the media was happy for Wozzilroy. But, as soon as he started missing cuts earlier this year, several writers were saying that Rory's relationship with Caroline was hurting his game, and some even went as far as to suggest that if he wants to be the GOAT (greatest of all time), he should consider ending the relationship. With a second major championship in the bag four months before Tiger won his second, no one should be questioning Rory's relationship - no one!


The future of golf looks as strong as ever. Is Rory McIlroy the next Tiger Woods? Only time will tell. And in the meantime, we're going to be treated to some great golf. Rory put on a clinic Sunday at The Ocean Course at Kiawah Island and it was a sight to behold. Golf needs someone like Rory who can capture the attention of the average sports fan to tune into golf. Regardless of Tiger's place in the history books, he is eventually going to get old and we need someone to assume his role as golf's most exciting player. And I believe we have that with Rory. After all, Rory did wear Victory Red Sunday. Was it a symbol of the changing of the guards?
What made you happy about the PGA Championship?
Have an idea for a guest column? Send it here
Image via Flickr,
Keith Allison
[ comments ]

LMHolzman says:
Woods lost
8/13/12
nagar28496 says:
Here the all possible solution,now click here this visit and get the all solution for microsoft windows 10 help support
windows online help
there are many issue,users facing the different type problem,so don't worry.
1/12/19
[ post comment ]