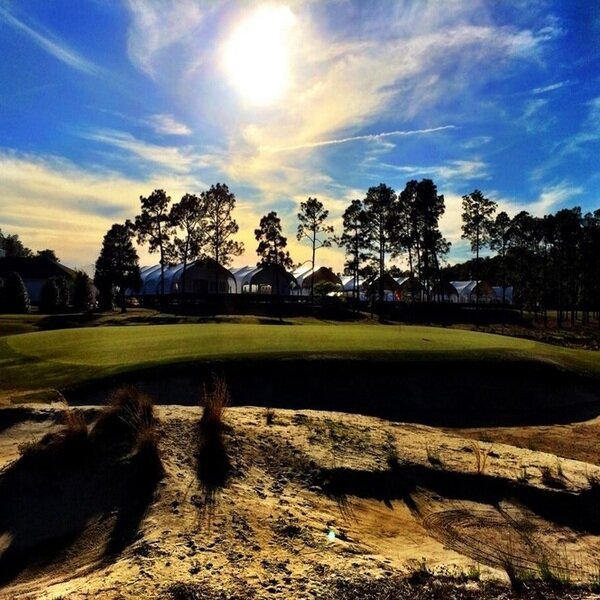 On Monday, the United States Golf Association held a media day at
Pinehurst Resort
in North Carolina, site of the men's and women's U.S. Open Championships in successive weeks in June. Among those present were USGA executive director Mike Davis (natch) and the two architects who presided over the restoration of Pinehurst #2, Bill Coore and Ben Crenshaw.
Over the winter of 2010-11, Coore and Crenshaw oversaw a restoration and "revitalization" of the #2 course at Pinehurst, which included the removal of almost 40 acres of lush, irrigated terrain. That accomplished two things:
It brought the course closer to the original Donald Ross design, and
it reduced water usage, which in turn reduces costs and associated maintenance.
Among those who support this change is Davis, the USGA executive director:
"At the USGA we would say the biggest threat, the biggest threat to the game long-term is water. Whether it's right now in certain parts of the country or a hundred years from now, water is going to be the thing that ultimately is going to affect the game the most.

"I think that this is a great, great story of what Pinehurst has done to say... we don't have to irrigate 150 acres anymore. We can cut that down. And this is a story, we can get drier, firmer fairways and we hope that this kind of shows the golf world that this can be done other places too."
Coore and Crenshaw clearly were appropriate choices for the Pinehurst restoration; they have a pronounced reputation as "retro-traditionalist" architects whose much-heralded design work includes
Sand Hills
in Nebraska, the Red Course at
Streamsong
in Florida,
Colorado Golf Club
outside Denver, and
Lost Farm at Barnbougle Dunes
in Australia.
Coore told reporters on Monday that while this is a definitely stylistic change, it is also a practical move:
"There is room in the world of golf for this. This may look like golf in the past, in terms of the presentation of the course, but in many so many ways, this is golf of the future.

"In today's world, with water issues, environmental impact issues, the costs associated... the majority (of courses) are going to have to go more in this direction."
Indeed, it would seem that the only courses able to spend tremendous amounts of money to maintain lush carpets of wall-to-wall green are places like Augusta National and the most exclusive private country clubs.
Even then, the impact is being felt there, too; last month, the Jack Nicklaus-designed Legends Course at
Diablo Grande Golf & Country Club
closed because the club simply cannot afford the massive costs of watering the course. (The overwhelming majority of Nicklaus courses in North America consume much more water than most other courses, a direct result of his designs, which call for large amounts of irrigated turf.)
The watchwords of golf design seem more and more to be echoing real life:
Waste not, want not.
Read more
Read an interesting golf article? Tip Your Editor!
Image via Twitter, Brian Formica
no comments posted yet.