U.S. Open TV: The Good, The Bad, The Ugly
NBC Sports and ESPN televised their last men's U.S. Open championship for the foreseeable future this past weekend. Not surprisingly, the television coverage included the good, the bad, and the ugly.
The "ugly" for NBC Sports and the USGA is the overnight television ratings — likely caused by Martin Kaymer waxing the other 66 weekend players like a pair of skis. The excellent Chicago-based sportswriter and blogger Ed Sherman
reports
that NBC garnered only a 3.3 overnight rating for their Sunday coverage, compared to 6.1 last year for Justin Rose's victory at Merion. For comparison, Webb Simpson's win at Olympic in 2012 earned NBC a 6.6, while Rory McIlroy's runaway at Congressional in 2011 earned a 5.1.
Chris Berman

Most people already know Chris Berman's gravelly, gritty voice from ESPN's coverage of NFL football, including the improvised nicknames, the "could... go... all... the... way..." touchdown descriptions, and his banal screeching and whooping that accompany his sports highlights. On ESPN's golf coverage, the general consensus is essentially that Chris Berman's announcing is about as appetizing as a peanut butter-and-sauerkraut sandwich.
But it was Sherman who passed along the funniest line about ESPN's U.S. Open coverage:
The other major lightning rod in televised golf coverage this weekend was...
Johnny Miller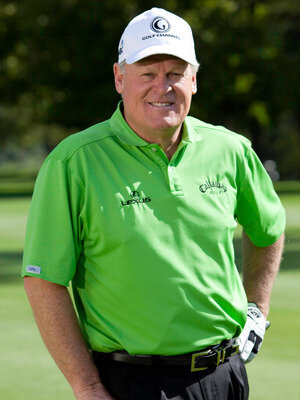 Judging from the reaction to our
NBC 'swan song'
piece one week ago today, it seems that Johnny Miller will not be missed by as many golf viewers as you might think.
But credit where credit is due: Several times this weekend, Miller correctly predicted the outcome of several shots involving the eventual champion. On Saturday at 6:56 p.m. EDT, Martin Kaymer was lining up a relatively short par putt at 15 when Miller told his NBC audience that he thought Kaymer was "probably due" to miss a short one like this. Sure enough, Kaymer missed wide.
Another example involved both Miller and Gary Koch on Sunday evening. Kaymer had left his approach to the 10th green short and in the
weeds
native vegetation. For his third, his pitch shot scooted over the green into a bare collection area behind the putting surface. When Kaymer pulled his putter out of the bag, both Miller and Koch predicted that this would result in trouble. Sure enough, Kaymer putted up and on, but the ball continued rolling off the front of the green into another collection area. Kaymer did well to make bogey from there.
Full points to Miller for correctly "first-guessing" and anticipating what would happen on-course before it actually happened. He has made a lengthy and famous second career out of these predictions and analyses.
Dan Hicks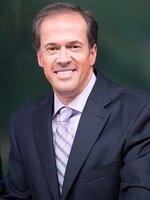 Surprisingly, the otherwise professional and versatile sportscaster Dan Hicks made two major mis-steps this weekend.
The most regrettable blunder occurred during NBC's sign-off, when Hicks thanked former USGA executive director David Fay and former president (and noted amateur golfer) Sandy Tatum, among others. But he skipped over current Executive Director Mike Davis and current president Thomas O'Toole Jr., no doubt a reaction to those two gentlemen's involvment in NBC losing the USGA television rights to Fox Sports.
Hicks also wasted a very nice opportunity to cross-promote one of NBC Sports' remaining major television properties, the National Hockey League. At 7:15 p.m. EDT on Saturday evening, NBC showed Paulina Gretzky's reaction to a missed putt by her future husband, Dustin Johnson. Hicks mentioned that "her dad's old team" won a title the previous night.
The problem for NBC's audience is that Hicks failed to include the words "Wayne Gretzky," "Los Angeles Kings," or even "Stanley Cup." Worse for Hicks, his very employer — NBC Sports — telecast that stunning and extremely tight final game of the Stanley Cup playoffs — part of NBC's "Championship Season" promotional campaign. Despite this and many other missed opportunities, NBC's coverage of the National Hockey League and the Stanley Cup playoffs has steadily gained audiences and ratings ever since they took over the U.S. television rights in the autumn of 2005.
Johnny Miller (again)
Following Hicks' lazy and nebulous reference to "Paulina's dad," Miller then badly blundered with his own response, making a completely uninformed crack about "a bunch of Canadians." Had he bothered to watch his own network the night before, he would have known that Dustin Brown of Ithaca, New York is now the first American-born NHL captain to win two Stanley Cups. Alec Martinez of Rochester Hills, Michigan
scored the very dramatic double-overtime Cup-winning goal
Friday night, while Matt Greene (Grand Ledge, Michigan) and Trevor Lewis (Salt Lake City, Utah) were essential at both ends of the ice. Finally, the Kings' second Stanley Cup would not have been possible without goaltender Jonathan Quick (Hamden, Connecticut) standing tall during Kings' record-tying 26-game Stanley Cup playoff odyssey. (In 2012, Quick won the Conn Smythe Trophy when the Kings captured their first Cup.)
Many other people noticed Miller's foot-in-mouth episode, too:
"It is better to keep your mouth closed and let people think you are a fool than to open it and remove all doubt."
— Mark Twain, pen name for Samuel Langhorne Clemens (1835-1910), American writer
At least Hicks and Miller did not turn the closing of the telecast into a sob-fest. And as Sherman correctly notes elsewhere on his blog, NBC Sports still has several PGA Tour events and the Ryder Cup matches in their programming arsenal.
Read more
Read an interesting golf story? Tip Your Editor!
Images via ESPN, Golf Channel, NBC
ally1957 says:
I watched the most of final round on sky sports and we didn't get the american commentary which is unfortunate for us because sky sports commentary is as dry as a death valley creek. NBC insist on showing ads over the coverage, prattle on about state colours. and insist on telling us about a tv programme going to be aired in the future. I know the advertiser is king but who breaks for the news or ends coverage because its been delayed earlier in the day. our covereage is bad but only because your providing the feed therefore so is ours.
PS Sir Nick is by a long way your most entertaining golf commentator need i say more.
6/19/14
Terryds says:
Here, you can get daily links to open Tv with good and bad ugly content. So, I prefer the interesting
rush my essay review
stories and content. That's why? I prefer the interesting assignments and essays.
5/4/18