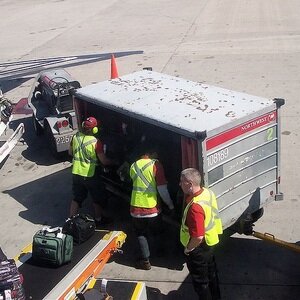 Airport personnel have awfully tough jobs — baggage handlers especially. They work in extremely noisy and stressful environments, even setting weather aside. But in extreme heat, cold, rain, or wind, it must be gobsmackingly depressing — to the point that they don't care what happens to the property entrusted to them.
Karen Crouse contributed
a story
to the
New York Times
about the hazards of travel (international travel, especially) with golf clubs. At the top of the story, she recounted Gary Woodland's journey from
Kansas City International Airport
to the Open Championship in England earlier this month. At KCI, Woodland saw a baggage handler drop his golf bag right on the tarmac, then fling a suitcase on top of the bag. What is somewhat ironic is that in 2008,
U.S. News & World Report
actually ranked KCI the "third least miserable airport" among the 47 busiest in the U.S. Of course, when Woodland arrived at
Manchester Airport
after "an excruciatingly tight connection" in Chicago, Woodland's clubs and bags were nowhere to be found.
Woodland showed remarkable restraint when he said, "Seeing them throw the bags around and then them not showing up, it was definitely a little more stressful than it needed to be."
Perversely, 1989 Open Champion Mark Calcavecchia
had the opposite problem
when he tried to get to the 2014 Open from California.
If you have traveled by air, you know that lost and mis-routed luggage can seriously affect life at your destination, as well as destroy vacation plans. But as Crouse noted in her article,
this airline industry report
says that United States-based carriers have fewer mishandled pieces of baggage than their European counterparts do.
London Heathrow Airport
has an especially poor reputation among pro golfers and their caddies. According to Crouse, Hunter Mahan's caddie, John Wood, has written off Heathrow as "the
Bermuda Triangle
for bags." In 2009, Mahan flew through Heathrow for the Open Championship at Turnberry, arriving on a Monday, but his bags failed to appear until late Wednesday. Because Ping had an equipment trailer at the Open, Mahan was able to have a set of clubs custom-made for him in time for the tournament. As it happened, Mahan still missed the cut.
This is precisely why Woodland flew through Manchester this year, instead of Heathrow — but he was still punished for his efforts.
Crouse also included the story of Henrik Stenson, who in July also flew to Heathrow from
Copenhagen
. Stenson's clubs made it, but astoundingly, they managed to lose his clothes bag.
"Heathrow's a dangerous place," according to the talented Swede, who also recommends avoiding
Charles de Gaulle Airport
outside Paris.
But we, the proverbial "proletariat" of the golf world, do not have that luxury. Aside from trusting a chosen air carrier, our only other options are renting clubs at the destination, or taking your clubs to services like
FedEx
and
ShipSticks.com
.
When your humble correspondent last traveled by air in September of 2012, my clubs and clothes made it successfully from
Minneapolis
to
Chicago-Midway
to
Jackson
and back. But you can image how unimpressed I was when I beheld an airline "Appearance Tech" truck at Midway that didn't have an attractive appearance of its own: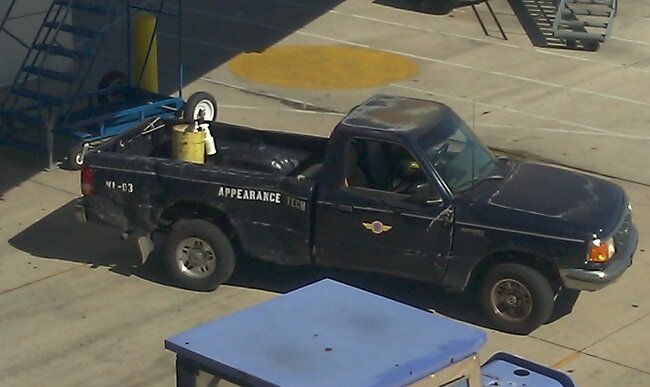 SkyGolf 360
members, please pipe in with your own experiences — good
or
bad.
Read more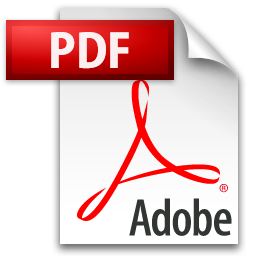 The Baggage Report 2014
Read an interesting golf article? Tip Your Editor!
Images via Wikipedia and Torleif Sorenson
ally1957 says:
hi
doesn't involve golf equipment but luggage in general
but don't fly through salt lake city with delta lost luggage every time that four out of four
At least it's a perfect record
8/6/14
shubham says:
Its so easy to connect Bluetooth in our window because now i give you some information about that
no bluetooth windows 10
things and if you are capable to use this then come here and try this article.
11/24/18