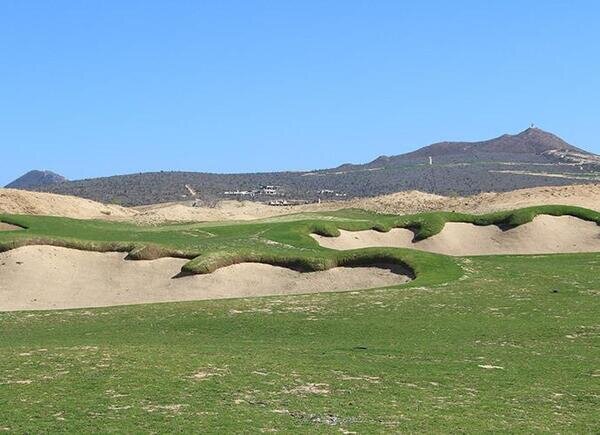 The dramatic fairway and green on the 360-yard 3rd hole at El Cardonal
After six long years and at least three aborted projects in Dubai, North Carolina, and another site in Mexico, a Tiger Woods-designed course will debut in less than two months:
The
El Cardonal
course at
Diamante Cabo San Lucas
is scheduled to open with a members-only event on December 16. It is the second course at Diamante; Davis Love III's Dianamte Dunes opened a couple of years ago and is positioned closer to the Pacific Ocean. But Woods has routed this course over and around stands of cacti, deep arroyos, and with some impressive mountain views that remind this writer of the Snow Mountain course at the Las Vegas Paiute Resort. The Pacific Ocean is also visible from several holes on El Cardonal.
Diamante CEO Ken Jowdy describes Tiger's design approach as favoring amateur golfers more than the professionals against which Tiger competes on weekends. But considering the hazards and bunkers Woods has integrated into the overall design, his obvious intent is to make golfers think their way around the course:
"I set up the golf strategy to make golfers think and make choices. Regardless of your handicap, there are going to be different ways to play every hole. Angles of approach are going to be very important and will dictate the type of shots you should consider. I love this kind of golf."
Woods has reportedly made six visits to the site and maintains a home at Diamante, in an effort to be a hands-on architect, working with design associates Beau Welling and Shane Robichaud.
In a previous interview with
Golf Magazine
's Joe Passov, Woods took a decidedly different approach to describing his course than Donald Trump usually does:
Not once this day did Woods speak of building a 'great' course at Diamante. He spoke instead of making El Cardonal walkable and playable, with variety and strategy. He pointed out contours that would aid, not frustrate, golfers. He stressed enjoyment for all grades of players.

Only time will tell whether he will deliver on that vision. But if the answers are in the dirt, Woods is off to a promising start.
Both the El Cardonal and Diamante Dunes courses at Cabo San Lucas are private clubs; the only way for non-members to gain access is either by staying at the resort hotel at Diamante, or by being a prospective property owner and visiting the site.
Woods is also the lead architect for
Bluejack National
, which is a redesign and complete rebuild near Houston, Texas and is schedule to reopen in October of 2015.
Have you seen an interesting golf story? Tell us about it!
Image via Legacy Properties