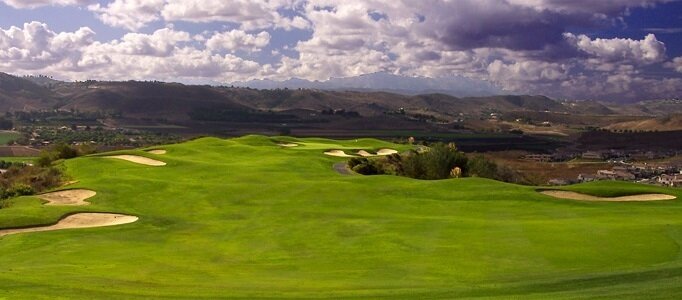 Recently, USGA editorial writer Ron Driscoll got to do what this writer would love to do: Travel someplace just to play a course that is making news. In this case, Driscoll visited the very attractive
Tierra Rejada Golf Club
in Moorpark, California to
talk with staff and customers
about the club's new "
Players Course
" set of tees.
This is notable because when this Bob Cupp design opened in December of 1999, at the height of the most recent course-building boom, golfers found the course so tough that it became known as "Tierra Too-harda" and "Terrible Rejada." Numerous forced carries, massive green-side bunkers, daunting approaches over steep aprons, and challenging elevation changes made for a tall challenge for average golfers, as Tierra Rejada's director of golf, Mike Peifer explained:
"It was like many of the courses built in the 1990s and the early 2000s — it was too hard for the average player. As golf course operators, it was on us to reduce the degree of difficulty and allow average players to play from a spot where they could manage their game. We've built new tees, softened slopes, removed bunkers, and made it a lot more fun to play without sacrificing the integrity of the original design."
Inspired by retired club-maker Barney Adams' idea, "Tee It Forward," Peifer and the club's owners came up with "The Players Course" set of tees, which scales the length back to 5,600 yards. This doesn't mean
all
of the length is gone; two par-5s still play to more than 500 yards and the longest par-3 plays to 185 yards.
The course was not physically altered; the course still stretches from 5,032 yards from the front tees to 7,017 yards from the tips.
How well has The Players Course gone over with TRGC's regular players? Peifer related the story of one golfer whose attitude toward the course changed after trying the new set of tees:
"We have one player here, a guy named Mike, who I forced to play the [Players Course] tees one day, and he said he had a great time. He told me it was the first time he had ever parred the [375-yard] 15th hole. The 15th is not a particularly long or difficult hole, but Mike finally hit a tee shot where he could hit an iron into the green and two-putt for a par. When he is playing the 425-yard tee, he is hitting a hybrid or perhaps a 5-iron into the green. If you don't feel like you can make a par on at least 14 of the holes that you're playing, you've got to move forward."
As we all know, golfers attempting to play from tees that are simply too long and difficult for them is one of the causes of slow play. But it also gets in the way of having a good time on the course.
Tierra Rejada's Players Course is one seemingly good way of attacking the problem — and the stubborn egos of more than a few golfers. As Driscoll reports in his story, Peifer and the staff at Tierra Rejada seem to be succeeding.
Have you seen an interesting golf story? Tell us about it!
Image via Tierra Rejada Golf Club
no comments posted yet.