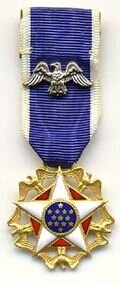 Charlie Sifford, the gentleman who broke the color barrier in golf, will receive the Presidential Medal of Freedom at a ceremony on November 24, the White House announced on Monday, November 10.
The PMoF is the United States' highest civilian honor that can be given. It was established in 1963 by President John F. Kennedy and replaced the Medal of Freedom that President Harry S. Truman established in 1945 to honor civilians during World War II.
The 92-year-old Sifford lives in Brecksville, Ohio and is quite well-known for battling the PGA of America, who had a "Caucasians-only" rule on their tour. By the time the PGA scrapped the rule, Sifford was almost 40 years old and had faced several death threats and appalling harrassment. Nevertheless, he won the 1967 Greater Hartford Open Invitational and the 1969 Los Angeles Open during his career.
Sifford has already been inducted into the World Golf Hall of Fame (2004) and given the Old Tom Morris Award from the Golf Course Superintendents Association of America (2007).
Reaction on Monday was heartwarming, starting with Tiger Woods:
Mr. Sifford, this award is way overdue, but we congratulate you and offer another tip-of-the-hat. Thank you for doing everything you have done while enduring everything you did.
Have you seen an interesting golf story? Tell us about it!
Image via Wikipedia
no comments posted yet.