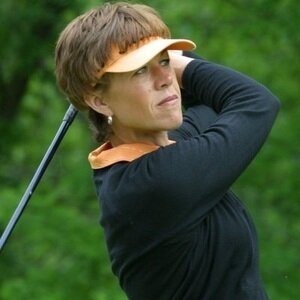 Veteran PGA of America teaching professional Suzy Whaley was among those elected to national leadership positions over the weekend. At the PGA's annual national meeting on Saturday,
Whaley was elected Secretary
.
She becomes the first female officer in the history of the organization. Whaley will serve as PGA secretary from 2015-2017, then two years as vice president, before starting a two-year term as president and another two-year term as honorary president. Within the PGA of America's rules, each of these promotions must be approved through a formal vote, which is usually considered a formality. Assuming this happens,
Whaley will serve as PGA of America president from 2017 to 2019
.
After a vote by 114 members, Whaley received 52.63 percent of vote. Russ Libby took 33.33%, while Michael Haywood had 14.04%.
Interim PGA of America president Derek Sprague was confirmed as the organization's 39th president. The former vice president of the PGA was elevated to the top office following the
impeachment and removal of Ted Bishop
one month ago. Former secretary Paul Levy, who took over Sprague's duties as vice president, now moves into the VP slot.
Allen Wronowski has been extended another two years as honorary president — the post that Bishop would have assumed following conclusion of his two-year term, had Bishop not been removed from office.
Some people may think that Whaley's rise to prominence is because of a need for a "token female" in leadership. But nothing could be further from the truth.
Whaley does more than just teach at her own golf academy; she won the 2003 PGA Connecticut Section Championship, becoming the first woman to win such a competition. That victory gave her an exemption into the PGA Tour's Greater Hartford Open. The last female before Whaley to play in a PGA Tour event was the legendary Babe Didrikson Zaharias.
Twice, Whaley has been selected the LPGA's Northeast Teacher of the Year and the PGA Connecticut Section's Teacher of the Year, as well as a top-50 teacher by
Golf Digest
. She has appeared on television numerous times in a variety of instructional segments.
Have you seen an interesting golf story? Tell us about it!
Image via Twitter, Suzy Whaley

bkuehn1952 says:
"The last female before Whaley to play in a PGA Tour event was the legendary Babe Didrikson Zaharias"
You are correct that Ms. Whaley was the first woman in 58 years to qualify for a PGA Tour event. Annika Sorenstam, however, played in the 2003 Colonial in May and Susie Whaley played at Hartford July. I suspect part of the reason Annika accepted the Colonial invitation was the event was scheduled prior to the Hartford. While I am picking nits, Susie won the 2002 PGA CT Section, which gave her a spot in the 2003 Hartford.
Nonetheless, I totally agree with you that she has earned her position in the PGA and is a true groundbreaker.
11/26/14
tegan34 says:
I am glad to read about such an inspiring lady. I think every female should read about her inspiring personality. What my teacher think about essay writing service
his comment is here
about edubirdie. Suzy Whaley is a perfect example for us if we want to achieve our goals and do something in our life. Thanks for sharing.
4/17/20
tegan34 says:
Pelit ovat osa elämää tällä uudenaikaisella tieteen ja tekniikan aikakaudella. Käy
casino suomessa
saadaksesi apua verkkopelaamisen hauskanpitoon. Tietokonepelit ovat erittäin hyvä pelata uudelle sukupolvelle, koska Internetin ylimäärästä on tullut erittäin helppoa. Enimmäkseen lapset haluavat pelata pelejä tietokoneilla nykymaailmassa.
4/29/20