Attack Of The Monster Sinkhole!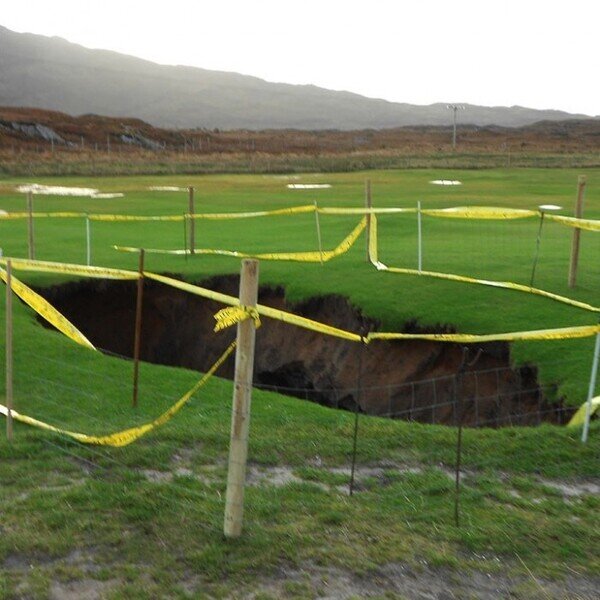 Being a golf course superintended is tough enough during winter in the Northern Hemisphere without sinkholes making a sudden, unwelcome appearance. This one has happened at
Traigh Golf Course
in northwestern Scotland. The problem is that the locals and members of Traigh GC do not have the money immediately available to repair it. The club appointed spokesman Alec Stewart to explain:
"A large sinkhole about 14-foot deep [sic] has appeared on our golf course, due to the large drainpipe or 'culvert' from the back of the course to the sea failing. It will cost about £20,000 to repair.

"Without repairing this pipe, about half of the golf course will revert to bog and this would effectively be the end of our golf course.

"Our insurance company is only going to pay for a fraction of the replacement fee because they 'do not cover culverts.'

"We cannot afford this. Traigh Golf Club is the only course for 50 miles and we feel that our course is a huge asset to the local community both as a local amenity and as a tourist attraction."
To that end, Golf Club Management posted on their web site that
if you or anyone else knows of any possible sources of funding for repairs
at Traigh, that they e-mail Mr. Stewart directly at
webmaster@traighgolf.co.uk
.
Did you read an interesting golf article? Tell us about it!
Image via GolfClubManagement.net
[ comments ]

bkuehn1952 says:
Sue the architect responsible for the 1995 re-design, the contractor who installed the drain pipe/constructed the drainage culvert and the manufacturer of the drain pipe. In the USA they would probably shake out enough money from those three organization's insurers to fix the problem. How long is a cement pipe supposed to last?
1/15/15

Torleif Sorenson says:
Fine question, but the problems are erosion, money, and time. The club simply does not have an attorney they can afford to pay. And the longer this drags out, the more erosion happens. The complete loss of the golf course is a distinct possibility if the sink hole and drainage issues are not resolved quickly.
1/16/15

mustang6560 says:
Yikes..
1/16/15
ally1957 says:
unfortunately courses in the UK have a habit of undercharging for their services and rarely if ever budget for the unforeseen. Though 20 grand seems a lot. But i'm no drainage expert but joining 2 pieces of pipe together filling in sodding and a can of white paint for the GUR sign.
1/19/15
[ post comment ]