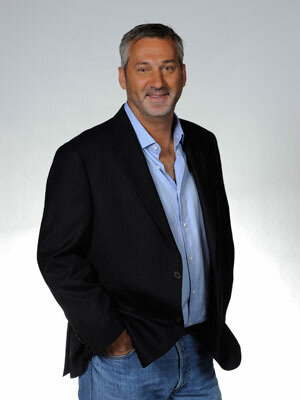 Frank Nobilo CNZM, one of New Zealand's most popular exports, has joined CBS Sports as an analyst for their golf coverage. Nobilo will work a good portion of the tournaments CBS televises, including the Masters Tournament and the PGA Championship. He steps into the role vacated by the
recently-retired Peter Oosterhuis
.
The
announcement
was made by CBS Sports chairman Sean McManus, who presumably did not have to have some marketing intern figure out what to write about his newest hire:
"Frank Nobilo is one of the most intelligent and engaging analysts in golf. His knowledge of the game and insight as a worldwide champion make him a perfect fit for CBS Sports' golf coverage. We are proud to showcase the strongest ensemble of voices in golf."
Indeed, Nobilo has been an eminently likable and respected voice of experience as an analyst on Golf Channel, where he will still continue to appear.
Prior to his retirement from competition in 2002, Nobilo won 15 professional tournaments, including the 1997 Greater Greensboro Classic on the PGA Tour and two New Zealand PGA Championships. He also captured the 1978 New Zealand Amateur Championship before turning pro. Perhaps not surprisingly, Queen Elizabeth II awarded Nobilo the Companion of the
New Zealand Order of Merit
(CNZM) in 1998.
This is one case where the press release reflects truth in advertising; we genuinely look forward to seeing and hearing Nobilo on CBS' televised golf coverage. And for Mr. McManus, this had to be one of the easiest decisions he has ever made at CBS Sports.
Have you seen an interesting golf story? Tell us about it!
Image via Golf Channel