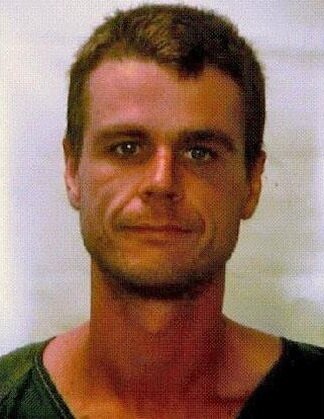 Since last month's bizarre story of Robert Allenby having been apparently
robbed of his cell-phone and wallet
, and allegedly having been beaten up, we have heard only from a trio of Allenby himself and a trio witnesses — all of whom are
homeless people
, strangely enough.
Now, the
Honolulu Star-Advertiser
reports
that Honolulu police have arrested a man named Owen P. Harbison (
mug shot at right
) and charged him with three counts if identity theft and secon-degree theft, along with one count of unauthorized possession of confidential personal information.
The arrest occurred on Wednesday, while Harbison was already in custody at the Oahu Community Correctional Center in Honolulu. A Honolulu police lieutenant said that Harbison is being held on $100,000 bail.
In an interesting new development, the
Star-Advertiser
also reports that Allenby has said that he has taken a blood test that, according to the newspaper, "could show what drugs were in his system. But he did not tell reporters what the drug test showed."
Because Allenby could not remember his own mobile phone number after the incident, he posted the now-famous picture of his injured face to his Facebook account on January 17, in part so that his family could see that he was otherwise alright.
For what it's worth, we have found two social media accounts being registered to an Owen Harbison in Maui, Hawaii: One on
Twitter
and one on
Facebook
that includes several photographs that very strongly resemble the mug shot released by the Honolulu Police Department.
Have you read an interesting golf story? Tell us about it!
Image via State of Hawaii Department of Public Safety

bkuehn1952 says:
I conclude that Allenby got smashed, passed out, smacked his face and then this loser came along and helped himself to Allenby's wallet and personal items. Nice.
2/14/15

Torleif Sorenson says:
It's sounding more and more like that. The latest police report said that Allenby was not actually at a strip club, as had been suggested by some last week.
2/16/15