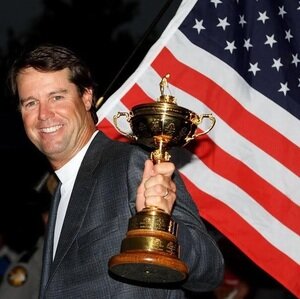 Paul Azinger, the 1993 PGA Championship winner and the last man to captain a winning U.S. Ryder Cup team, has found himself in the ridiculous position of having to knock down a couple of rumors surrounding the captaincy of the 2016 U.S. Ryder Cup squad. The above tweet was just one of them.
On Tuesday, Azinger
talked with Rex Hoggard
about Davis Love III and how he himself felt about the gig:
"I had no interest in being the captain in 2016 for many reasons, personal and business. I suggested Davis to the powers that be at the PGA. He's a logical choice if he wants it."
In a separate text message, Azinger said of Love, "He's still connected to the players. He was very prepared and thorough in 2012. Davis will bring much needed continuity to the process."
Indeed, after a lifetime of playing golf, including his running a golf-related business, Azinger undoubtedly wants to have time with his family, which currently includes four generations - from his mother to his granddaughter:
No kidding.
Have you seen an interesting golf story? Tell us about it!
Image via Twitter, PGAhistorybug
no comments posted yet.