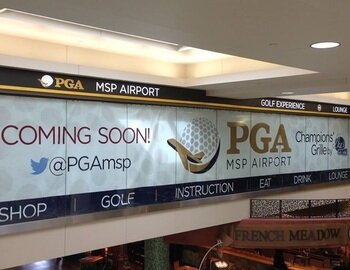 You really must give credit to the
PGA of America
. Over the last few years, the world's largest sports organization has changed from what has been perceived as a stodgy "old boy network" to one that is aggressively working on growing both the game of golf and their influence — and borrowing heavily from successful businesses and best practices.
Their latest idea is an intriguing one: A golf simulator with lessons available, a shop, and a lounge with food service. All at...
Minneapolis Saint Paul International Airport
.
PGA MSP Airport
will open next month in Terminal 1, on the second floor near the intersection of Concourse C and Concourse D. The 12,000 square-foot store will include a simulator with several dozen courses pre-loaded, along with teaching facilities staffed by PGA of America teaching professionals,
and
the 84-seat Champions' Grille by
Ike's Food & Cocktails
.
The great thing is that they are planning to make day passes available for non-flying golfers.
At first glance, this represents some rather clever and out-of-the-box thinking by the PGA of America, working in this case with
Wexford Golf
. They are especially wise to launch this in a golf-crazy region that suffers through roughly five months of of winter. And with business travelers typically having a bit more disposable income (even in a continuing recession), they stand a reasonable chance of succeeding in such a setting. Also, MSP International Airport is not only the 16th-busiest in North America, it is
the largest and busiest airport in the northern United States
between Chicago and Seattle. So, PGA MSP Airport should have no shortage of travelers and prospective customers.
Your humble correspondent is not a business journalist or writer — but here's hoping that this venture succeeds not only financially, but in attracting more people (women especially!) to the game we all love.
Press release
Facebook page
Twitter feed
Have you seen an interesting golf story? Tell us about it!
Image via PGA MSP Airport
jasonfish11 says:
"it is the largest and busiest airport in the northern United States between Chicago and Seattle"
Is that like being the fastest white guy with 1 leg?
3/2/15

Torleif Sorenson says:
Jason, that was a subtle acknowledgement that the new Denver International Airport is busier and larger in size than MSP. Hmmmm, does someone have "airport envy"?
3/2/15