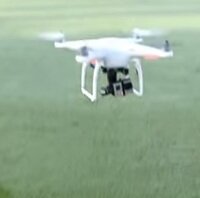 Earlier this week, the Augusta-Richmond County Commission in Georgia voted to ban drones over the city of Augusta from April 2-13. This is no gigantic surprise; the Masters Tournament is schedule to be played April 9-12 at Augusta National Golf Club — and none of the law enforcement agencies want any trouble or monkey business.
In reporting this development,
Golfweek
's Alex Miceli
noted
that the Federal Aviation Administration "holds general jurisdiction" over drones. However, the county commission said that drones were a specific public health and safety issue. This
is
sensible when you consider that not only would the noise and racket from drones be a noise and safety problem if one were to crash down onto a large group of Masters Tournament patrons.
The sound alone would be just as obnoxious — if not more so — than the
vuvuzelas
that infested and stained the 2010 World Cup tournament in South Africa.
In
re-posting
the story at CBSSports.com, Kyle Porter cleverly used the following video to illustrate who Masters Tournament officials could turn to blow the offending contraptions out of the sky:
Jason Day.
No, Jason, that was not "your bad." That is GREAT shooting!
Have you seen an interesting golf story? Tell us about it!
srogers13 says:
Anyone doubt that ANGC has anti-drone missles at the ready?
3/26/15
jasonfish11 says:
Its good to have former Secretary of State as a member. Fighter jets can be scrambled in minutes lol.
3/26/15