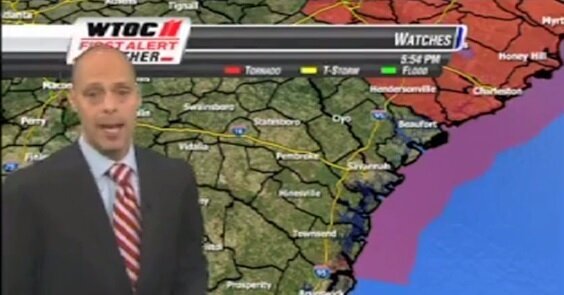 "Welcome back to our weather coverage, fans!!"
On Sunday afternoon, CBS-TV was airing tape-delayed coverage of the PGA Tour's RBC Heritage. The tournament had actually been completed roughly three hours beforehand, due to thunderstorms that later hit the the Hilton Head area.
But if you live in the Savannah, Georgia area, CBS affiliate
WTOC-TV
cheated you out of seeing Jim Furyk's
sudden-death playoff-winning putt
and his dramatic celebration.
Why?
Because WTOC meteorologist
Dave Turley
somehow thought it was an intelligent idea to interrupt to tell viewers that there were
no storm watches, warnings, or advisories
in effect and that the thunderstorms had moved out of the area.
Deadspin
posted the video here
.
Yes, you read correctly: Dave Turley and the WTOC master control staff decided that it was a good idea to cut off the winning putt to tell viewers that
nothing bad was happening
. Nothing was stopping Turley from waiting 60 seconds to tell us that the weather had improved. But because WTOC is...
The Southeast Newwwws Leaderrrrr
, they must interrupt for...
BREAKING WEATHER NEWWWWWSSS!
If a storm warning had been issued...
...then this would be a clear public safety issue and WTOC would have been fully-justified in cutting into network programming.
Your correspondent was a classical music host on one of the most high-profile public radio stations in the western United States for four years. In fact, I attended severe weather spotter training held by our local National Weather Service office. On a couple of occasions while on the air, I never thought twice about interrupting because the National Weather Service had issued a tornado warning or severe thunderstorm warning for our listening area.
But for this completely avoidable blunder, Dave Turley, WTOC news director
Jan Smith
, and the WTOC master control staff deserve a stern talking-to.
Un... freaking... believable.
Have you seen an interesting golf story? Tell us about it!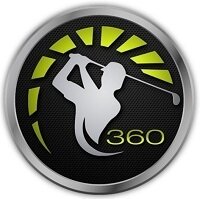 bkuehn1952 says:
He is the next "Heidi"!!!
4/21/15

Torleif Sorenson says:GREAT
historical reference, NBEB! :D
4/21/15
srogers13 says:
I did love John Buccigoss of ESPN send out the comment of when Furyk won, with no live TV coverage available despite it being 2015, that courtroom sketches of the winning putt would be available shortly.
4/21/15

Torleif Sorenson says:
Another clever crack by John Buccigross. I missed that, @srogers13, thanks for pointing that out.
4/22/15
ally1957 says:
Rumour has it that one channel cut to adverts on the closely fought last lap of a Formula 1 GP leaving every one guessing
So this isn't much of a supprise
4/23/15
RichardBurne says:
I have watched this tournament. In
superior papers.com
, I have watched many tournaments in live. I really appreciate the players who have done the great job.
8/10/18
himanshi says:
cool maths game is a puzzle solving game.If you wants to play
cool maths
game so just go a this link an play this amazing game.Lovely game !! You must love this .
11/20/18