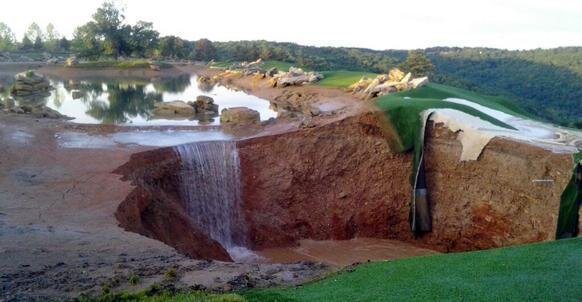 Top of the Rock Golf Course
has become well-known and popular as one of the host courses for the
Senior Tour
Champions Tour's original event — the Legends of Golf. The par-3 course has a standard rate of $135 — and is reportedly so good that it is worth every dime.
Now, it is famous for four gigantic sinkholes that developed late last week.
As the
Springfield News-Leader
reports
, the largest of the four craters occurred on the practice range and is about 60 feet by 80 feet, roughly 35 feet deep. It is the result of something called
Karst topography
, which is quite prevalent in the Ozark region and causes
sinkholes
. The Missouri Department of Natural Resources has documented at least 15,981 sinkholes within the state.
Representatives from a geological engineering firm and with Bass Pro Shops (which owns TOTR) are working on how to deal with the problem long-term, rather than just filling in the hole.
Have you seen an interesting golf story? Tell us about it!
Image via Twitter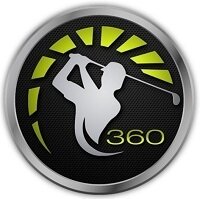 bkuehn1952 says:
Is this part of that "big hole" golf initiative started by TaylorMade?
5/27/15

MSchad says:
I've never seen grass hang like that.... artificial grass on a golf course???
5/27/15

Torleif Sorenson says:
The picture above shows the sinkhole on the practice range.
5/28/15
sunnyyadav0390 says:
It is like to the great site
remove sign password windows 10
for my generate the homepage.
1/6/18
likemoney2017 says:
Purses are the most
replica louis vuitton uk
convenient method making a statement-- and also these bags absolutely say a great deal. From restricted edition milk containers to runway launches, these
michael kors replica handbags
made Yoogi (et cetera of us from the Storage room) claim WOW, and also I hope you'll value the beauty and also crafts( wo) manship behind these sensational creations.Yes. Just. Yes. When Yoogi first laid eye on this Celine beauty-- all she can claim was WOW. In between the vibrant bright eco-friendly as
michael kors outlet
well as glossy crocodile, this Celine Luggage Lug certain is a stunner. Yoogi was an early fan of the Celine Luggage Tote, back when they were selling out everywhere, so naturally she was an entranced when this
www.ukreplicahandags.co.uk
was contributed to her wardrobe.
1/25/18
loemrntdherid1 says:
Past may beats by dre very well be next beats headphones cheap wood
A difficult ride, Pronounced medical professional. cheap beats by dr dre Muqtedar air max Khan, A mentor of nike store politics discount nike shoes nutrition along within cheap beats the