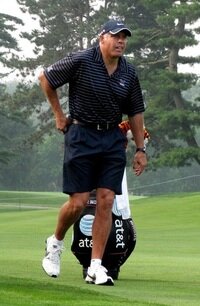 It worked before, so why not try it again?
2013 Masters champion Adam Scott and caddie Steve Williams will reunite for the final three majors of 2015, along with the WGC-Bridgestone Invitational. Perhaps not coincidentally, these will be the final three majors that Adam Scott will be able to use his brookstick putter.
Needless to say, Scott is happy:
"Steve was adamant that he was not going to caddie in 2015, so he took some convincing, but I am very happy he's agreed to help out. We've had great success together, so I'm looking forward to being on the links with Steve again."
As a result, Scott has (for now) split with caddie Mike Kerr.
At the end of the year, both Steve Williams and the broomstick putter will go into permanent retirement.
Have you seen an interesting golf story? Tell us about it!
Image via Flickr