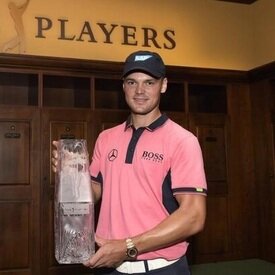 Martin Kaymer
was cruising through The Players Championship until a thunderstorm delay late Sunday afternoon, after which he double-bogeyed 15 at TPC Sawgrass and almost found himself in trouble at the infamous 17th. There were a few challengers as well;
Jordan Spieth
was the co-leader after 54 holes.
Justin Rose
surged following removal of a two-shot penalty levied on Saturday.
Sergio Garcia
and
Jim Furyk
made strong closing bids, too, although only Furyk finished within one shot of the winner.
In the end, Kaymer held on to win the Players Championship Sunday night. It is Kaymer's first win anywhere since the 2012 Nedbank Challenge in South Africa in December of 2012. It is only his second PGA Tour victory; he won the 2010 PGA Championship in Wisconsin.
"It's always difficult to come back after a little break, but obviously you see the leaderboard, you see where you are, but I played really, really well the first 14 holes.

"I made a couple wrong decisions (after the weather delay). On 16, I should have chipped it. It was not the right decision, but that was a big putt on 17."
No kidding. At 17, Kaymer hit a fine tee-shot, but caught a wickedly unlucky bounce, where his tee-shot rolled down a slope and stopped 64 feet from the jar. It was a 28-foot par-saver that ended up saving Kaymer's bacon.
On this Mother's Day, Kaymer also remember
his
mother, who lost a battle with skin cancer six years ago:
"To win on Mother's Day... we show our parents way too little. We always need some occasions to show them, which is what you realize when they're not there anymore. So to win on those days, it adds a little bit of a nice thing to the whole week.

"I think about her every day. I don't need a Mother's Day."
Apparently, Kaymer also doesn't need tons of sunlight in order to hold on and win a big one.
Ausgezeichnet, Martin!
Read more
Watch an interesting golf video? Tip Your Editor!
no comments posted yet.