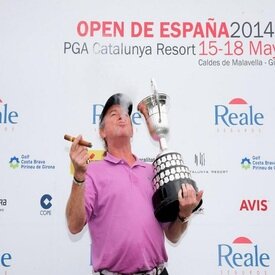 It must be good to be Miguel Ángel Jiménez these days.
Earlier this month, he got married to his attractive blonde girlfriend — at his home club in Spain, no less. He is slated to be an assistant captain at the Ryder Cup this September, but is looking more and more like
a favorite to actually qualify
for the team. This past weekend, he finally won the national championship of his native country.
In his 27th attempt, "The Mechanic" has finally
captured the European Tour's Open de España
. The Spaniard actually coughed up a two-shot lead in the final round, before outlasting Thomas Pieters and Richard Green on the first hole of a three-way playoff.
At age 50 years 133 days, Jiménez extends the record he already owns for the oldest winner of a European Tour event. So far this season, he is the only multiple winner on the Euro circuit. And with the victory on Sunday, Jiménez surged into 25th place in the Official World Golf Ranking, up from 34th.
And now, he is on the fringes of automatically qualifying for the 2014 Ryder Cup at Gleneagles in Scotland. According to the
current points standings
, Jiménez has 1,414,953.33 points on the European list and 129.66 points on the World list.
Of course, some reporter had to ask The Most Interesting Golfer In The World about his longevity as a player; Jiménez responded this way:
"There is no secret. Good food, good wine, good cigars, and some exercise!"
Um... yeah.
Read more
Read an interesting golf article? Tip Your Editor!
Image via Twitter, European Tour
no comments posted yet.