2014 U.S. Open: Kaiser Kaymer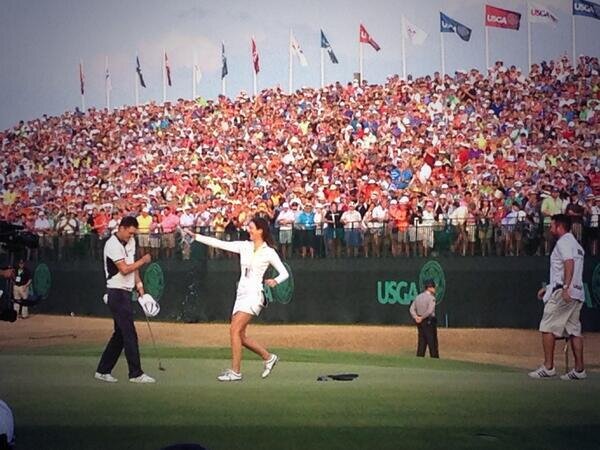 In the end, Martin Kaymer first- and second-round 65s where simply too much for the rest of the field to overcome.
This is not to say that Kaymer had a smooth ride to winning the 114th United States Open Championship at Pinehurst #2; on Saturday at the 6th hole, Kaymer actually putted the ball off the green, giving players like Matt Kuchar and Brendon Todd a
momentary
window of opportunity. Several times, the big German found the wiry native vegetation, but avoided big numbers with his short-game and putting. Kaymer in fact wound up shooting 72 on Saturday.
On Sunday, Kaymer found himself in a momentary spot of bother, but didn't lose his cool. At the 10th hole, his approach wound up short right in the weeds, from where his pitch shot rocketed through the green and into a bare lie behind the putting surface. He then drew the consternation of NBC golf analysts like Johnny Miller and Gary Koch when he decided to putt from off the green. Both predicted trouble — and they were correct; Kaymer putted all the way off the front of the green. He did well to salvage a bogey from there. But from there, birdied 13 and 14, slamming the door on anybody else in the field with delusions of grandeur.
Among the factoids emerging from Kaymer's win on Sunday:
He has nine wins on the European Tour, but only three in North America. But they're all big ones — the 2010 PGA Championship, the 2014 Players Championship, and now the U.S. Open.


Kaymer established a new 36-hole U.S. Open scoring record (65 + 65 = 130).


He is the first player from continental Europe to win the U.S. Open.


Kaymer became the first golfer to win on both Mother's Day and Father's Day in the same year since Tom Kite won the 1992 BellSouth Classic and the U.S. Open.
Rickie Fowler and Erik Compton may have finished eight shots adrift, but both played strong on a difficult course. Several of Fowler's approach shots were otherwise excellent, but wound up in various bunkers — especially at 13. An excellent short game kept him from tumbling down the leaderboard. Fowler is only now seeing the benefits of some significant swing changes; he finished T-5 at The Masters in April
Erik Compton, who prefers to be known as a professional golfer who has survived two heart transplants, made only his second-ever appearance at a professional major; he missed the cut at Pebble Beach in 2010. This time, he tied with Fowler for second — and was publicly grateful for how far he has come in his career:
Read more
Read an interesting golf story? Tip Your Editor!
Images via Twitter
no comments posted yet.