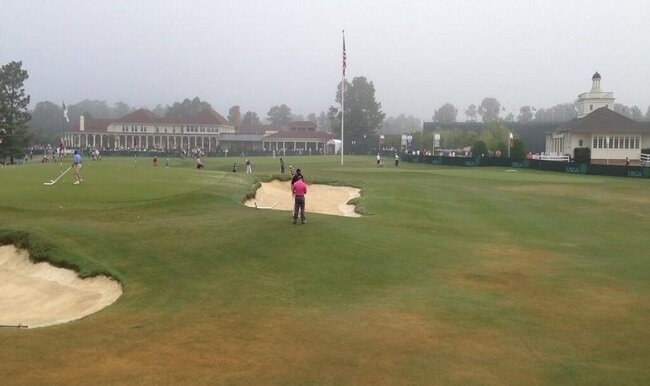 In
our summary
of the men's U.S. Open on Sunday evening, we noted the "first-guess" criticism of eventual champion Martin Kaymer electing to putt from off several of Pinehurst # 2's greens.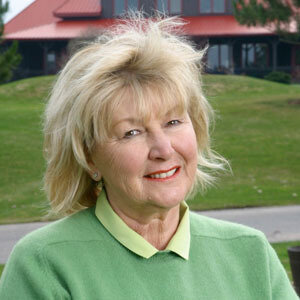 But longtime Canadian golf writer Ian Hutchinson
has shared
a very different viewpoint, courtesy of a very notable Canadian heroine: Sandra Post (
right
).
If you are not yet familiar with her, the Ontario native was the first Canadian to play on the LPGA Tour. In addition to winning the 1978 and 1979 Dinah Shore Winner's Circle (before it was designated a major championship), Post won the 1968 LPGA Championship at Pleasant Valley CC in Massachusetts.
Where NBC's Johnny Miller and Gary Koch frowned upon Kaymer putting from off the green, Post takes the opposite view — borne out of playing at Pinehurst since the 1950s:
"I believe in putting from the apron. I putt it from way back when there's nothing there. I like to keep the ball on the ground whenever I can."
As for negotiating the fairways and hazards of the #2 Course, the honorable Post has thoughts as well:
"There are a lot of kicks and rolls. You saw it with the men. You're going to see it with the women. It's very penal. You have a very small target to hit.

"It's all about position. You might not hit driver off the tee; the fairways are so narrow. Your iron play, what a premium on that!

"I think the woman who is a high ball hitter will have a little bit of an advantage, because it will land softly on the greens, but you're going to have to be a wizard around the greens, just like the men."
In fact, others have suggested that the women may play Pinehurst a bit more conservatively overall than the men did last week. This could be, in part, because the LPGA and the Ladies European Tour do not often go to courses like Pinehurst.
"They're going to have to adapt very quickly," says Post.
Read more
Read an interesting golf story? Tip Your Editor!
Images via Twitter, golfnewsnow.ca
ally1957 says:
whats wrong with putting on to the green or even running it on to the green from 50 to 150 yards away its not as TV spectacular as a shot rentering the atmosphere from high and landing couple of feet from the pin but from what I saw they weren't able to do that a Pinehurst the balls didn't stop.
I wactched them placeing pins (boring life I lead) at tpc scottsdale once last year and they threw balls on to the green to find where the soft spots were and the pins were nowhere near them. My halfpenny's worth for what its worth.
6/20/14