Wieeeee Are The Champion, My Friennnds...
Last week at the men's U.S. Open Championship, Martin Kaymer methodically eliminated all the drama by running away with the title. This past weekend was completely different.
Was Michelle Wie overdue to win a major? Perhaps, but remember than Annika Sorenstam was also 24 years old when she won her first major championship. And it had become a macabre game to rip on Wie for "not delivering" on all the hype she has received since she was 12 years old. As late as 14 months ago, Annika Sorenstam was saying, "the talent is not there."
But beginning last summer, Wie began a surge. She finished T-9 at the LPGA Championship. Two months ago, when Lexi Thompson won her first major at the Dinah, Wie turned in
her
best finish in a major with a solo second. She finished four shots ahead of Stacy Lewis, five ahead of Cristie Kerr and Se Ri Pak, and six ahead of Shanshan Feng — all of who were major champions already. Then on April 19, she won the LPGA Lotte Championship in Hawaii, her home state.
And then, in the toughest individual test in women's golf (the U.S. Open), Wie got ahead and stayed ahead: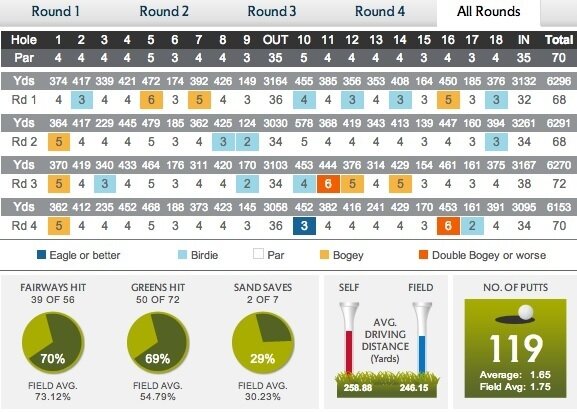 At the 10th hole, Wie's nuclear tee shot and an 8-iron second gave her an eagle that earned her the championship, because Pinehurst made the men and women make mistakes. At 16, Wie's tee-shot headed straight for a right-side fairway bunker. From there, her hybrid second plugged deep into a native plant in front of another bunker, forcing Wie to take an unplayable lie. She did well to make double-bogey.
But Wie did not collapse after that 6. At the par-3 17th, Wie hit the green, then carefully coaxed home a 25-foot birdie putt that even Stacy Lewis could hear at the practice range. After a straightforward par at the home hole, it was complete — and Wie was the only golfer under par.
"Obviously, there are moments of doubt in there. But obviously, I had so many people surrounding me. They never lost faith in me. That's pushed me forward.

"I don't think age really matters. You can win a U.S. Open when you're 34 or 24. I think it just doesn't really matter. It's just the fact that your name is on the trophy, I think that's the most important part. And just like I said before, I'm just so honored to be part of that club."
Indeed. Viewed from a different context, a wise and experienced sportswriter once wrote that "there is no such thing as a former U.S. Open Champion. They're
all
U.S. Open Champions.
Stacy's Back Again
For her part, two-time major champion Stacy Lewis kept it close after starting Sunday six shots behind Wie and third-round co-leader Amy Yang. Pinehurst #2 savaged men and women alike with see-saw rounds and Lewis's was no different:

Her birdies at 17 and 18 got her back to level par for the championship and forced Wie to play heroically at the end. That is one of the signs of a top player in the world.
And if you think this is just flowery writing to make Lewis look good, remember that the legendary Jack Nicklaus had 19 second place and 9 third place finishes in 25 years of playing major championships.
The American Meadow Party
Northern Ireland's Stephanie Meadow competed in the Curtis Cup earlier this month, then turned professional last week. She certainly proved that she is ready at the professional level; after bogeys at 4 and 9, she took advantage of the shortened 10th hole by making eagle, then birdied the last to finish solo third, one behind Lewis and three behind Wie. For anyone to shoot 71-72-69-69 in her first professional event — let alone America's national championship — is plenty outstanding.
Juli's Curtain Call
Juli Inkster is already in the World Golf Hall of Fame, in no small part because she has won seven major championships. She won the Dinah Shore in 1984 and 1989, the 1999 and 2000 LPGA Championships, the 1999 and 2002 U.S. Women's Opens, and the 1984 duMaurier Classic. As an amateur golfer, she won the 1980, 1981, and 1982 U.S. Women's Amateur Championships. The only other golfer to win three consecutive U.S. Amateurs is Tiger Woods. Not even the legendary Bobby Jones ever did that.
Inkster (b. Juli Simpson) played in her record-setting 35th and final U.S. Women's Open this weekend. So when she shot followed up rounds of 71 and 75 with a blistering 66 on Saturday, she was just a few strokes off the lead. That set off all sorts of talk about how unique it would be to win the final USWO, making her exempt from qualifying, but that she was quitting after that.
Alas, another 75 on Sunday came about from bogeys at 1, 4, 6, and 7, spoiling that particular party. Nevertheless, golf fans gave her a standing ovation at the 18th green, one she richly deserved — and appreciated:
"They were so pulling for me, but it's really hard to acknowledge them when you're five over par and struggling. It was very nice, especially the reception on No. 1 tee and reception on 18, and all around the golf course. It was great. Very, very, very honored."
Mrs. Inkster, you deserved every bit of it — and more.
Read more
Read an interesting golf story? Tip Your Editor!
Images via Twitter
no comments posted yet.