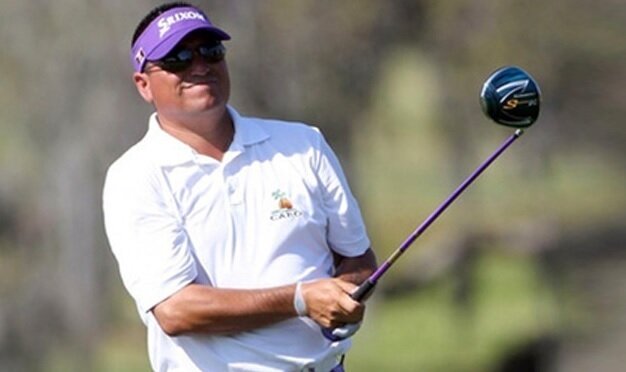 PGA Tour player
Robert Gamez
underwent quadruple bypass surgery on Wednesday in Orlando, Florida.
The news was announced by Paul Graham, one of the vice presidents with Empire Sports Management and Gamez's manager. Gamez had difficulty breathing last weekend and was taken to hospital.
Since 1998, Gamez has had an unfortunate run of medical problems, when he was injured in a car accident at the Kemper Open. Gamez suffered a low point in 2001, when he failed to qualify for the PGA Tour. This year, the only PGA Tour event he has played in is the Arnold Palmer Invitational, which he won in 1990 when it was known as the "Nestle Invitational."
On that day (March 25, 1990), Gamez turned in a heart-stopping moment when he defeated Greg Norman on the final hole with one of the most memorable shots in PGA Tour history:
We at
oobgolf
sincerely hope that Robert's recovery is complete and as painless as possible.
Read more
Read an interesting golf story? Tip Your Editor!
Image via Team Gamez
eddieoo7 says:
Hello Guys, Here it is the best site for freecellgames online games and these games are of cards. You can access to these games online easily without facing any error.
Online freecell
is an entertaining amazing game and you can have lots of fun with these games. Check out these amazing games.
5/30/18
wholesaleretails says:
Aaabagstrade.ru Trading Co., Ltd. was established in 2009. Since its establishment, the company has developed rapidly and its business has grown and developed. Our company mainly deals in high-end men's bags; high-end handbags; processing; sales, Such us:
Replica Louis Vuitton Bags Online
,
Replica Cheap Gucci Handbags
,
Replica Hermes Handbags
,
Replica Discount Chanel Handbags
,
Replica Celine Handbags
,
Replica Prada Handbags
,
Replica Christian Dior Bags
,
Replica Cheap Bottega Veneta Bags
,
11/10/18