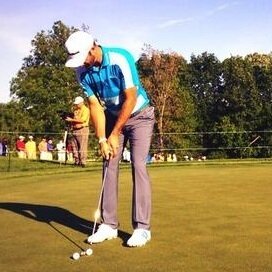 Dustin Johnson is taking time off from the PGA Tour, effective immediately. Through his management company, he released the following statement:
"I am taking a leave of absence from professional golf, effective immediately. I will use this time to seek professional help for personal challenges I have faced. By committing the time and resources necessary to improve my mental health, physical well-being and emotional foundation, I am confident that I will be better equipped to fulfill my potential and become a consistent champion.

"I respectfully ask my fans, well-wishers and the media for privacy as I embark upon this mission of self-improvement."
Neither Johnson, nor his agent, Davis Winkle of Hambric Sports Management, would comment further.
Speculation is running wild that Johnson might have failed a drug test; rumors have widely circulated that Johnson served a two-month drug suspension from the PGA Tour — and that he underwent in-patient rehab. Many observers on the web who have tried to "read between the lines" have said that this smells like substance abuse.
Not surprisingly, the PGA Tour does not disclose these sorts of things. All the Tour had to say was this: "We have nothing to add to Dustin's statement, but we wish him well and look forward to his return to the PGA TOUR in the future."
This afternoon, the PGA of America confirmed that Johnson has also pulled out of the two highest-profile events in men's golf remaining this year:
Johnson was 5th in the Ryder Cup standings this week. If Johnson remains among the top 9 after the PGA Championship at Valhalla, then his spot would go to the 10th-ranked player. Johnson won the WGC-HSBC Champions and has six more top-ten finishes this season. But by all appearances, Johnson's season is done.
While the announcement on Thursday was stunning, we cannot say it was necessarily surprising. His well-documented "life in the fast lane" style with fiancée Paulina Gretzky, a Los Angeles socialite well-known for her carousing and alcohol use, certainly did not look good in any way.
We certainly wish Johnson a complete and successful recovery from the personal challenges he is facing. Certainly he has taken a large step in the right direction.
Read more
Read an interesting golf article? Tip Your Editor!
Image via Twitter, Dustin Johnson
bruceervin says:
The affliction is improved for the indviduals. The system and
best essay writing service uk
is highlighted for the actual movement of the documents for the humans in life.
9/7/18
garmantis332 says:
The free site for the free codes market is
www.freecodesmarket.com
for the gift cards codes is for free to get the amazing deals on online purchases for free.
10/29/18
ahmedraza1001 says:
Cool you write, the information is very good and interesting, I'll give you a link to my site.
Horny
1/6/19
ahmedraza1001 says:
Whilst surfing the net from time to time I have found a site that is rather thought invoking like this one. Delighted when I discovered your website as I greatly enjoyed it and that I look forward to your future article. We're certain to look for the next write-up.. Many thanks for the great post I am going to revisit in the future.
www.amarketingexpert.com/successful-book-marketi
1/10/19
Salman86 says:
I have play the more different games but Mahjong titans online is batter more then,so this is right time to play this board original game
mahjongfreegames.online/titans
i think you like and enjoyed and felling very well.
7/20/19
smsapi says:
SMS API
s have become a global phenomenon due to their speed and effectiveness. So much so that thousands of businesses worldwide have integrated it with their database to send unlimited messages like OTPs, alerts and notifications for swift exchange of information.
4/29/20
inactive_594536421295400 says:
Real-time marketing is currently the way most products and services are being marketing using trending events to trigger a response from respective audiences.
Mass Texting
is the smartest tool promote latest offers using events as they have happened. For example, an ice cream store can offer discounts to customers on a very hot day.
4/29/20