On Friday, the second round of the 96th PGA Championship was delayed by rain, which fell off-and-on throughout the day. And while the PGA of America sent grounds crews out to squeegee as much water off Valhalla as possible, they refused to to allow players to go "lift, clean, and place" — or as some purists might say, "lift, clean, and cheat."
First, the PGA's officially sanctioned on-course highlights:
Same musician, same song, different verse
By now, nobody should be surprised that
Rory McIlroy
is in the lead at another huge tournament. The Northern Irishman's early 10th-tee start quickly got sour with a troublesome bunker shot from wet sand at the 12th hole, resulting in a bogey. But two birdies and an impressive eagle at the 18th allowed him to go out in 33. Paired with an inward 34, Rory's four-under-par 67 got him to -9 (133) at the halfway point of regulation.
Les poursuivants
Jason Day
is playing through a lingering thumb injury and stood strong on Friday, firing a 65 that proved to be the lowest round of the day. Day notched five birdies, as well as a magnificent approach that led to an eagle at the 597-yard 7th hole. Even with a nagging thumb, Day still hits the ball so high that it practically needs a heat shield coming down.
Not to be forgotten is
Jim Furyk
, who would obviously love to capture a second major at age 44. His 68 on Friday put him in a tie for second with Day at -8 (134). Furyk finished alone in fourth place at the Open Championship at Royal Liverpool, then finished second at the Canadian Open, then finished T-15 at the WGC-Bridgestone last weekend. Rory might prevail on Sunday, but it would be foolish to predict against Furyk this weekend.
Rickie Fowler
, who has finished T-5, T-2, and T-2 at the first three majors this year, shot a see-saw 66 to get in a tie for fourth place with first-round co-leader
Ryan Palmer
, who shot 70 to stay two behind McIlroy. Finland's
Mikko Ilonen
fought off three bogeys with six birdies to card a 68 and tie Fowler and Palmer for fourth. Thursday's other co-leader, 28-year-old
Kevin Chappell
, made only one birdie at the 7th and stumbled to a 74, leaving him T-17 at -3 (139).
Lurking at T-7 are
Phil Mickelson
(no introduction necessary) and Austrian
Bernd Wiesberger
(some introduction necessary) at -6 (136). Seven other golfers, including likely Ryder Cup members
Henrik Stenson
of Sweden,
Joost Luiten
of the Netherlands,
Lee Westwood
of England, and Frenchman
Victor Dubuisson
, are tied for 9th place at -5 (137).
Tiger MCs, But Guts It Out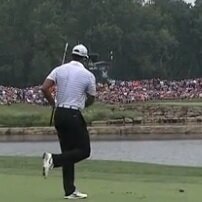 When this writer watched
Tiger
very obviously in pain and struggling around Valhalla, I agreed with some of the CBS commentators who predicted that Tiger would head to the clubhouse, then to the parking lot after finishing the ninth hole. Instead, Woods refused to quit and gamely shot a 74 to finish at +6 148, five shots outside the cut.
Afterward, all anybody wanted to ask about was Tiger's back:
"It was sore. It went out on me on the range. Just had to play through it. It was telling me on the range probably wasn't a good idea, but I'm not exactly a non-stubborn person.

"That was tough. It was a long day. I tried as hard as I could. That's about all I've got. Unfortunately just didn't play well."
Woods may not have delivered a
Paul Kariya
or
Kirk Gibson
-type moment, but he deserves every last bit of credit for trying to put himself on the Ryder Cup team as a captain's selection.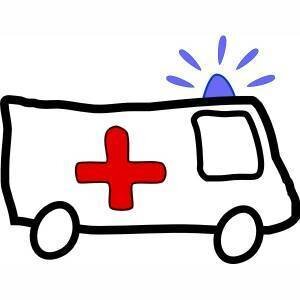 They're Dropping Like Flies
After the non-starts of Dustin Johnson and David Toms, we had the early exits on Thursday of Jason Dufner and Matt Kuchar due to injury. On Friday, the PGA Championship saw two
more
withdrawals:
Two-time major champion Ángel Cabrera of Argentina bowed out with what the PGA of America described as a shoulder injury.


Oregon native Ben Crane withdrew with the latest of his long-standing back problems. Crane carded a three-over-par 74 on Thursday.

Last week at Firestone, he shot 73-70 before his back "cried uncle." Crane won in Memphis this year, but stood 56th in the Ryder Cup points standings coming into this week.
Not Ruling Himself Out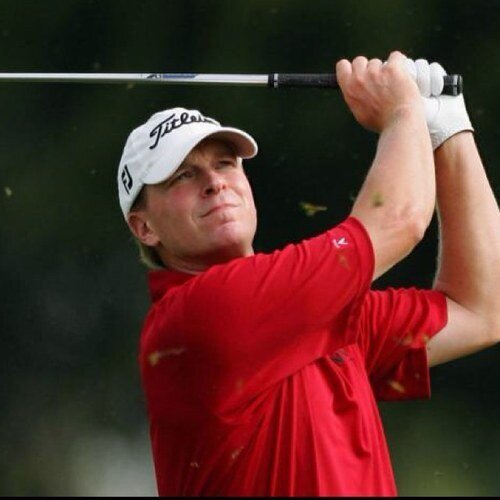 Steve Stricker
has already been named an assistant to U.S. Ryder Cup team captain Tom Watson for next month's big deal at Gleneagles in Scotland. Stricker's body has not cooperated with him this year; he is having his worst season in the last ten and he stands 38th in the Ryder Cup standings.
And yet, Stricker is trying to play his way onto the 2014 U.S. Ryder Cup team. After rounds of 69 and 68, Stricker stands T-9 at -5 (137), alongside six other golfers, including Graham DeLaet — who is ineligible for the Ryder Cup because his birth certificate says "Weyburn, Saskatchewan."
Stricker is trying to pull off the seemingly improbable:
"I would have to do something very special. And I'm obviously going to try to do the best I can this weekend. But it really hasn't crossed my mind as a player, just because I haven't played that much. I haven't played all that well this year and I'm just trying to have a good tournament here this week — try to finish the year off on a positive note," he said.
And the person who needs to be convinced more than any other refuses to rule out the Wisconsin native, who is trying to make his fourth consecutive Ryder Cup team — captain Tom Watson:
"Strick has got game. If he should win here, there would be no question that he would be on the team rather than a vice captain — no question.
And since Watson will wait until September 2 to announce his wildcard selections, Stricker could conceivably play well in the first two FedEx Cup playoff tournaments and play his way onto the team in Gleneagles.
"That's the magic date for me," Watson said. "If he runs the tables and happens to win and things like that, I'd be a fool not to consider him."
The Louisville weekend weather forecast...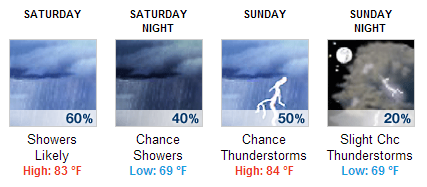 ...doesn't look promising.
Leaderboard
Read an interesting golf article? Tip Your Editor!
Images via YouTube, National Weather Service, Twitter
no comments posted yet.