2014 Ryder Cup: Saturday Morning Four-Balls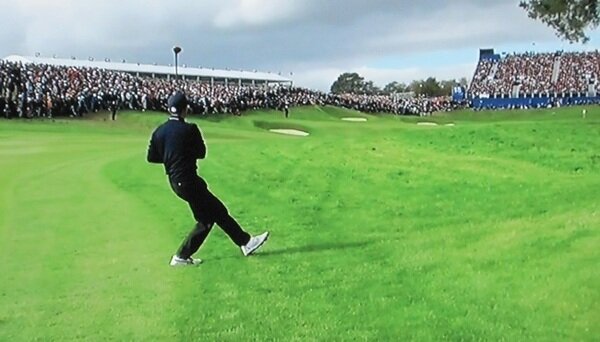 Rickie Fowler threw some "body English" into his approach at the 18th.
The 25-year-old has three halves in three matches.
On Saturday morning, U.S. captain Tom Watson sat Phil Mickelson, Keegan Bradley, Webb Simpson, and Zach Johnson — major champions all. Instead, the 65-year-old living legend of golf put all three of his rookies.
And they delivered again.
Saturday morning fourball results

a.k.a. "best ball"

Match #

9

Bubba Watson
Matt Kuchar
3 & 2
Justin Rose
Henrik Stenson
These two pairs put on the most impressive putting clinic in Ryder Cup history. NBC's Johnny Miller opined that it might be the finest-ever display of putting in any important golf tournament. From the 5th hole to the 16th hole, either or both of these two teams notched a birdie. Rose and Stenson notched a record-setting 12 birdies over 16 holes — the most in any Ryder Cup four-balls match. The 21 total birdies by both teams is the most ever in a single match.

Watson and Kuchar traded birdies with Justin Rose over the first three holes, followed by a halves of the 4th and 5th. But it was Rose who kicked off the birdie-fest with a 25-foot bomb at the 5th for an impressive halve. Kuchar then birdied 6 to go 2-up, but that was the last hole the Americans won outright.

Stenson birdied 7 to get back to 1-down. Then at the 8th, Rose sank a long, curving left-to-righter for birdie to square the match. The two teams halved 9 through 11, including Rose holing from the apron and Watson sinking a 10-footer to keep the match square. At 11, Rose nearly holed his approach from the fairway, but Kuchar holed a 30-footer to keep the match square.

At the 12th, the Europeans grabbed a lead they would not relinquish when Stenson sank a 20-foot left-to-right putt to go 1-up. Rose grabbed another birdie at 13 to go 2-up. The Americans almost coughed up a 3-up lead when Stenson lashed his approach to just 18 inches resulting in a conceded birdie. But Kuchar kept the U.S. in the match with a stunning hole-out from off the green, halving the hole. However, Rose and his hot putter would not cool off to give Watson and Kuchar any room; he nailed one last birdie at 16 to close out the Americans.

It is especially remarkable that Watson and Kuchar made nine birdies, but still lost 3 & 2. But this is precisely the kind of drama that makes the Ryder Cup so utterly compelling.

10

Jim Furyk
Hunter Mahan
4 & 3
Jamie Donaldson
Lee Westwood
Despite three birdies from Westwood and two from Donaldson, the Euros could not win a single hole in this match. Mahan birdied the first hole to go 1-up, then Furyk drained a long birdie at the 3rd to go 2-up. After Mahan birdied the 7th, the two teams traded mix of birdies and pars that kept the U.S. 3-up through 13. When Mahan eagled 14, it was only a matter of time.

11

Patrick Reed
Jordan Spieth
5 & 3
Thomas Bjørn
Martin Kaymer
One of the more interesting stories that emerged from Gleneagles on Friday afternoon was the benching of rookies Jordan Spieth, even though they impressively defeated Ian Poulter and Stephen Gallacher, 5 & 4. Without them, the Americans captured only a half-point in the afternoon.

Following a mea culpa from captain Watson, the two youngsters were back on Saturday morning — and after surrendering a 2-up lead through the 4th, they carved up the two experienced Europeans. At the 5th, Kaymer went OB; Spieth capitalized with a birdie to get back to 1-down. Then at the 6th, Bjørn suffered a bogey, while Spieth nailed a birdie to square the match. Then at the par-3 7th, Reed successfully negotiated a blind approach, leaving himself 18 inches from the jar and a conceded birdie to tie the Great Dane, Bjørn. Spieth struck again with birdies at 10 and 11 to go 2-up, then Reed dished out two more birdies at 13 and 14 to put a dagger in Bjørn and Kaymer.

Afterward, Spieth spoke with a maturity and experience well-beyond his 21 years:

"It's huge. You could tell when we turned our match around, it seemed like every match started to turn around. Guys behind us went from one-down to one-up, and the guys ahead of us were playing such consistent golf. "I think at the worst, we were up in one and tied in the other three. So we knew we were off go a good start and we knew this morning was a really big time for us to get back and get square. Hopefully, those guys behind can do it. We did our part this morning, and we're going to try to do the same this afternoon."

12

Jimmy Walker
Rickie Fowler
Rory McIlroy
Ian Poulter
For the second time this weekend, the world's number-one golfer, Rory McIlroy, found himself in a titanic battle with Americans Rickie Fowler and Jimmy Walker. All three went toe-to-toe and emerged from the 18th green with a half-point.

On Saturday morning, Poulter came alive with a birdie at the first, which Jimmy Walker took back at the fifth with a conceded birdie. McIlroy got 2-up with birdies and the 8th and 9th, which Fowler and Walker carved back at the next two holes. Walker then got the Americans their first 1-up lead of the match, while Rickie Fowler got close to the 15th hole and had the opportunity to go 3-up.

Poulter then set off an explosion of cheers and celebration by chipping in from off the green for a halve. Charged up, Poulter then birdied the 16th to go back to all-square. Fowler had the best chance to win the match at the 18th hole with a long eagle chance, but couldn't swing the putt home.

Fowler and Walker's 0-0-3 record really does not do justice to the monumental battles they have had with McIlroy, Poulter, and Sergio García. And setting aside Poulter's 5 & 4 loss on Friday morning, all three have been arguably the best players for Team Europe.




5½




6½
Read an interesting golf article? Tip your editor!
Image by Torleif Sorenson
[ comments ]
max.rashwin says:
All the Peoples are talking and sharing about this amazing card game and i am also a great fan of this Junction.Spider solitaire
play spider solitaire online free
has the more advantages and features for you to enjoy here and all this functions are fully free.
5/24/18
[ post comment ]
Most Popular:

Subscribe