Nicolas Colsaerts is popularly known as "The Muscles From Brussels." And even though he missed qualifying for the Ryder cup this year, he is still a force on the European Tour.
On Thursday,
Colsaerts nearly became the first player
in the 42-year history of the European Tour to shoot a 59 in a Tour event: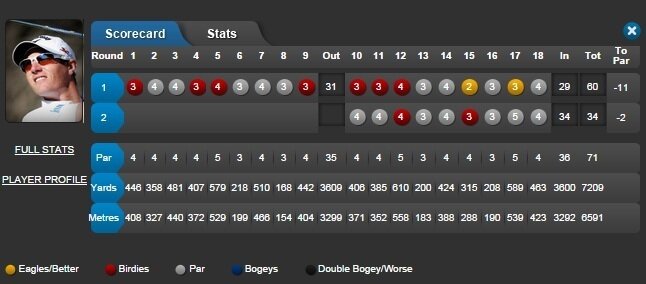 Instead, he carded the 17th "60" in Euro Tour history. Still, nothing to sneeze at, especially since Colsaerts has been trying to overcome an uncooperative game over the last 18 months. Colsaerts remains near the top of the leaderboard at the Portugal Masters, which is being played at Oceånico Victoria Golf Club and has been stalled a few times by rain and weather delays.
Last month, Colsaerts fired the longest drive in European Tour history, a 447-yard bomb at the 18th hole at Celtic Manor. The hole played to 613 yards, which left Colsaerts a mere gap wedge into the green. If this keeps up, Colsaerts is very likely to be on the 2016 European Ryder Cup team at Hazeltine National.
Have you seen an interesting new golf video? Let us know!
no comments posted yet.