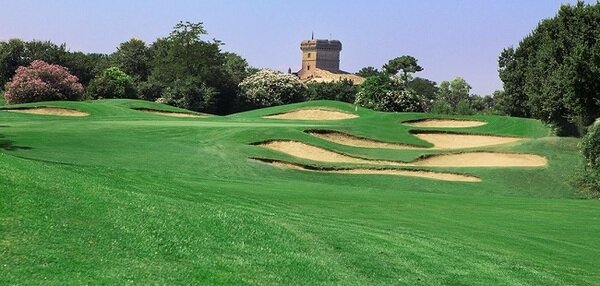 The 4th hole on the Championship Course at Marco Simone Golf & Country Club, outside Rome
Exactly one year ago today, officials with the Turkish Golf Federation made known their interest in hosting the 2022 Ryder Cup matches.
Today,
we have word
that Turkey has decided to pull out of the running for the 2022 Ryder Cup. Organizers resigned themselves to the fact that, while the
Montgomerie Maxx Royal
is a fine course, it lacks the space for grandstands and all of the accompanying infrastructure a Ryder Cup venue now needs. In addition, the club and the federation would have had to cut down over 15,000 tree to try to make the venue work for the Ryder Cup.
Instead, the Turkish Golf Federation and supporting organizations will focus on constructing a new course large enough to host the Ryder Cup, with an eye toward the environment and leaner water usage. The cost is currently estimated at €30 to 40 million (US$ 37 to 50 million).
At the same time, officials from the
Italian Golf Federation have jumped into the race
to host the 2022 Ryder Cup. The Italians would host the event at the
Marco Simone Golf & Country Club
in Guidonia, northeast of Rome. Part of the club includes an ancient castle, which could possibly be used for exhibits or for spectator tours.
The European Tour has already fielded proposals from the golf federations of Austria, Denmark, Germany, Portugal, and Spain. Euro Tour officials will visit each of the proposed venues over the next two months, with a formal announcement of the 2022 Ryder Cup venue sometime in 2015.
Have you seen an interesting golf story? Tell us about it!
Image via Marco Simone Golf & Country Club
no comments posted yet.