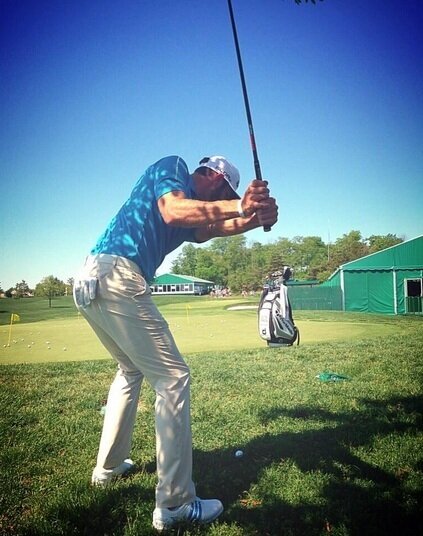 On the morning August 1, news broke that PGA Tour player Dustin Johnson was stepping away from the PGA Tour for what he called
"personal challenges."
Later that afternoon,
Golf.com broke the story
that Johnson had actually been suspended for failing a drug test and that he had tested positive for cocaine. Despite denials from PGA Tour Commissioner Tim Finchem and from Johnson's agent, David Winkle of Hambric Sports Management, Golf.com continues to stand by their story, citing a variety of sources.
Johnson apparently is straightening out his overall act.
On Monday morning, Bloomberg News reporter Erik Matuszewski
wrote
that TaylorMade officials had not heard from Johnson, one of their endorsing players, since August!
By Monday evening, veteran golf writer Tim Rosaforte
reported
that Johnson has resurfaced, quoting Winkle as saying that D.J. is aiming for a return to action on February 5, 2015. That is when the PGA Tour's annual San Diego stop (The Farmers Insurance Open) gets underway.
Presumably, Johnson has also taken Matuszewski's article as a clue that he needed to contact his bosses at TaylorMade, pronto.
At any rate, Rosaforte also reports that Johnson has moved to Palm Beach Gardens, Florida and has been working with trainer Joey Diovisalvi. (
THERE is a classic Polynesian name!
)
Perhaps most telling are the details of a conversation between Rosaforte and coach Claude Harmon III:
Some of the old DJ habits of not showing up, showing up late, not returning calls, have not been a trademark in this latest version of Johnson. His practice sessions with Claude Harmon III at The Floridian have been just as dialed in. Shortly after their first session, Johnson shot a course record 61 at Sherwood CC in California.

"He's showed up on time, hit balls and has looked good," Harmon said. "He looks healthy, really calm, and chilled out."

The prevalent feeling in his camp is that Gretzky's pregnancy and impending fatherhood has caused the change. Even Butch Harmon, who split with Johnson for a short time in 2011, is reserving judgment.

"I talked to him last week," Harmon said. "He sounded good, the best I've heard in years, so I'm cautiously optimistic."
Let's hope so. That baby needs to be raised in something other than Dustin and Paulina's old party atmosphere.
Have you seen an interesting golf story? Tell us about it!
Image via Twitter, Dustin Johnson
tegan34 says:
This changed nature of Dustin Johnson has startled his team members, coach, training staff, and his fanbase. I have to write essay on it therefore I am having help of
see this
online. His training sessions with the Joey Diovisalvi is the reason behind this very positive change in that young fellow.
4/22/20