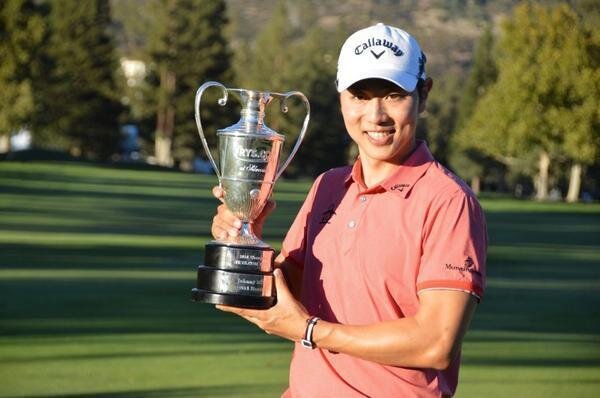 PGA Tour player Sang-Moon Bae is a 28-year-old native of Daegu, South Korea. Bae's place on tour is secure, by virtue of winning the 2013 Byron Nelson and, just three months ago, capturing the Frys.com Open. Not only has he earned his tour card for at least the next two years, but he is in the field for this week's Tournament of Champions at Kapalua in Hawaii.
But Bae is now on the horns of
a dilemma
caused by a law in his native country that requires all men between the ages of 18 and 35 to complete two years of service in the Republic of Korea Armed Forces. South Korean women are excluded from the requirement, but are welcome to serve on a voluntary basis. At the conclusion of the 1950-53 Korean War, no peace treaty was signed, so technically, South Korea and North Korea are technically still at war — hence the military conscription rules.
Bae's mother reported last week that Bae's request for an extension of his overseas travel permit was rejected by the Military Manpower Administration.
Also last week, the PGA Tour reported on their web site that the South Korean government has a history of waiving the military service requirement for athletes wining gold medals at the Asian Games, or for winning any Olympic medal. But as far as this reporter as been able to determine, no such exemptions exist for Korea's professional golfers.
So unless Bae can work out an exemption from South Korea's MMA, he might be forced to temporarily suspend his professional career and a chance to compete in the 2016 Olympics in Rio de Janiero in order to satisfy his country's military service requirement.
One other interesting note: For the purposes of taxes and financial record-keeping, Bae gained United States residency two years ago and holds a green card. While it currently seems unlikely, one cannot rule out the remote possibility of Bae pursuing U.S. citizenship in an effort to keep his hard-won job.
Stay tuned.
Read an interesting golf article? Tell us about it!
Image via Twitter

bkuehn1952 says:
Despite having selected him for my fantasy team, I hope he has the spine to return to Korea and fulfill his obligation. Universal service isn't "universal" when successful people are allowed to opt out. We in the USA are very good about applying rules and requirements upon everyone (except you, and you, and of course me and maybe those guys over there).
1/7/15

mustang6560 says:
I see US citizenship in his near future!
1/7/15

Torleif Sorenson says:
Pretty near future, indeed. Bae apparently has to resolve this issue by the end of January or face punitive action from the South Korean government. Still, I'm sure that it would be less harsh than punishment from the *North* Korean government...
1/7/15