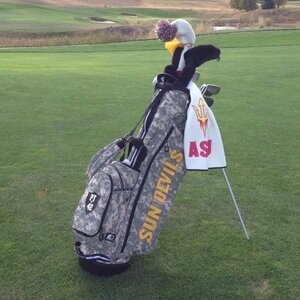 Phil Mickelson has lost his job — sort of.
Back in November,
we told you
about how "Lefty" became the Interim Assistant Men's Golf Coach at Arizona State University, working for his brother, head coach
Tim Mickelson
.
But on Wednesday, Phil Mickelson
confirmed
at a press conference ahead of the Phoenix Open that he is no longer official the interim assistant men's coach. He was devoted chiefly to recruiting — and the university needed to give Mickelson an official title so that the
enforcers
compliance officials at the NCAA would not have a proverbial cow.
"We had developed a plan to where I could call some recruits," Mickelson said. "We weren't really going to say anything and hadn't said anything for a few weeks until one of the players had tweeted it and it looked like there were some improprieties, which there weren't, so we had to publicly announce I was assistant coach; otherwise, I wouldn't be able to make the phone calls I had been making."
Finally, Mickelson can "clear his desk" and concentrate on his game, his charitable work, his corporate sponsorships, his endorsements, his move from California to Arizona, his burgeoning golf course design business, his chase for a U.S. Open Championship victory, etc., etc., etc...
Have you seen an interesting golf story? Tell us about it!
Image via Twitter

bkuehn1952 says:
Retroactively making someone assistant coach to comply with NCAA regulations. I am sure that must be a permitted practice considering how easy going and laid back the NCAA is about these things.
1/29/15

Torleif Sorenson says:
Yes, I wonder if either Lefty or Arizona State had to grease the NCAA's collective palms a little bit once word got out.
1/30/15