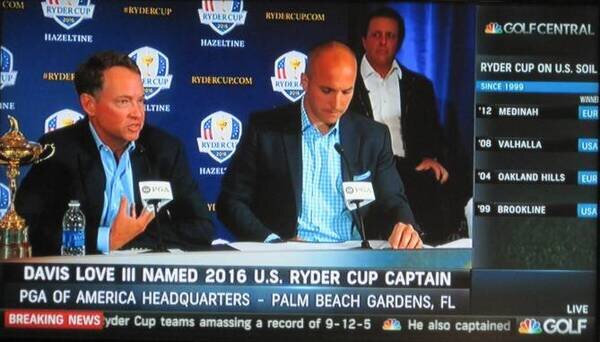 What is
not
a surprise is that Davis Love III was introduced as captain of the United States Ryder Cup team in 2016 at Hazeltine National Golf Club in Chaska, Minnesota. PGA of America CEO Pete Bevacqua made it official at 4:38 p.m. EST today, but we learned this
eight days ago
.
What
is
surprising are the major structural and organizational changes within the PGA of America and the Ryder Cup Task Force. Bevacqua confirmed that this will be a permanent fixture at the PGA of America, rather than a "one-and-done" or occasional thing. The committee may also be revised in 2018 and 2020; Bevacqua cited the need to be able to "call audibles" if necessary.
Changes to qualifying
The new points schedule will begin next week with the playing of the World Golf Championships-Cadillac Championship at Doral. It will end with the top eight players in points following the conclusion of the Barclays on Sunday, August 28, 2016.

In 2015, players will earn one point for every $2,000 earned in each of the four World Golf Championships and the Players Championship. They will earn one point for each $1,000 earned during each the four majors.

Beginning in January of 2016 with the Hyundai Tournament of Champions and going through August 28, all PGA Tour regular season events will be worth one point for every $1,000 earned. The majors will be worth one point for every $500 earned.


The first three wildcard selections will be announced following the 2016 BMW Championship.


The fourth and final wildcard selection will be announced following the 2016 Tour Championship.

In an interview with Golf Channel's Rich Lerner, Bevacqua noted that the 2014 U.S. wildcard selections were announced before Billy Horschel got hot and won two consecutive FedEx Cup Playoff tournaments, including the season-ending Tour Championship. Giving the captain the option to choose the final wildcard player just hours after the conclusion of the Tour Championship should prevent problems like this in the future.
Permanent organizational changes
Bevacqua began the press conference by announcing the findings of the Ryder Cup Task Force. Reading from a prepared statement, Sprague started by saying that the committee decided that the PGA of America needed a new business model, a new team-building model, and a new process to ensure continuity from team to team through each two-year cycle. Bevacqua emphasized that each member of the task force was given a clean sheet of paper, with nothing automatically off the table.
When Love spoke, one of the stories he told was of a conversation with Darren Clarke at the 2010 Ryder Cup; Clarke said he wanted to be the Team Europe captain opposite Love someday in the future. In 2016, they will get their wish.
A new way to select a captain
Bevacqua said that, in the past, Team USA captains were chosen largely through informal conversations, with occasional input from various players.
From now on, a six-member committee will choose the American captain. Before Love was chosen, he was part of this new six-person committee, along with Bevacqua, Sprague, PGA Vice President Paul Levy, Tiger Woods, and Phil Mickelson. (The committee members will obviously change over time.)
Team USA will have
four vice-captains
: Two past captains and two former players, each selected by a permanent six-person committee. On Tuesday afternoon, Love introduced Minnesota native and 1996 Open Championship winner Tom Lehman as his first vice-captain.
Phil Mickelson himself said on Tuesday that the two biggest benefits of this change will be that players are guaranteed to be involved in choosing a captain, and continuity will now be possible from team-to-team every two years.
The Love train
When Karen Crouse of the
New York Times
asked how Davis Love III came to be selected as captain, Mickelson jumped in with the answer:
"It was not Davis's idea at all to be captain (laughter). He felt like he was taking somebody's spot. He felt like it wasn't his place to do that. But, Karen, when you look at big picture, if you look at like 2016, there are a number of people that could be great captains that could help lead us to hopefully a successful week, whether it's Fred Couples and Paul Azinger, the names that were being thrown out to other players like Jim Furyk, Steve Stricker, and a few others that were even discussed.

"But when you look at big picture over the next ten Ryder Cups and trying to build a platform and a blueprint to follow and have continuity from year to year, you want to have somebody that has experience. You want to have somebody that can look back on past things that have been done well and things that could be improved upon, which Davis in 2012 did a lot of great things right; and he did some things that he would like to do differently, and he has something to work off of, rather than bring somebody in for the first time that is starting from an open campus.

"So that made us want to have somebody with past experience, and when you look at the way Davis has always throughout his career been able to, as a policy board member for the PGA TOUR take input from so many different viewpoints, put it all together and create some great decisions from that, he was a perfect fit for what we wanted in that we have input coming from all different areas and he's a great guy to integrate all that information.

"He's a guy that people love and respect, and he's a guy that already has done a great job and put us in a position to succeed, even though we didn't do it. And ultimately, the goal is to put players in a position to succeeded as opposed to create obstacles for them to overcome.
In the end, Phil Mickelson's now-famous comments shortly after Team USA lost the Ryder Cup (again) last September 28 may have been the root cause of the PGA of America forming this Ryder Cup Task Force.
But after going 2-8 over the last ten Ryder Cups and having been outscored 109½ to 76½ over the last seven Ryder Cups, we could say that the PGA of America really had no other choice.
Press conference transcript
Have you seen an interesting golf story? Tell us about it!
no comments posted yet.