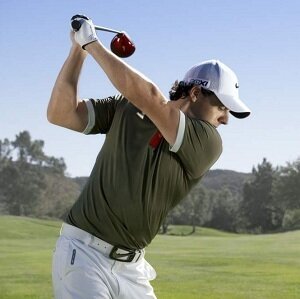 Reuters sportwriter Bernie McGuire
reports
that Rory McIlroy was "shocked" when the PGA of America appointed Davis Love III as captain of the 2016 United States Ryder Cup team.
In Palm Beach Gardens, Florida for the PGA Tour's Honda Classic, McIlroy answered reporters' queries about his opinion of DL3 as captain and the PGA of America's new strategy. Rors responded:
"It came as a big shock when they announced yesterday Davis was going to be the next U.S. captain. It will be great to see Davis and (European captain) Darren (Clarke) go head-to-head at Hazeltine and they will be formidable opponents.

"But then also I'm surprised, and I feel they're overdoing it with the setting up of a task force and also talking about all the changes they want to bring in.

"It's been said by a few players since we won at Gleneagles that it's not rocket science why Europe have won the last three Ryder Cups and eight of the past ten.

"Davis is going to be a great captain and it was a freak we won at Medinah in 2012 and it was not supposed to happen given they had a 10–6 lead and if the States had have won, Davis would have been looked upon as a great captain. So I get the sense the States, what with their task force and everything that came out in the announcement yesterday, that they're desperate to win back the Ryder Cup.

"And I will say it again because it's not that complicated why Europe has been winning."
It
is
important to remember that the U.S. team's dreadful 1-7 record in foursomes in 2014 was not a continuation of 2010 and 2012. Nevertheless, Love did say on Tuesday that he wants players to practice match play much more often before the 2016 Ryder Cup face-off on Friday morning, September 30, 2016 at Hazeltine National Golf Club in Minnesota.
But one question is this: Was McIlroy trying to be a little
too
clever in his opinions?
Have you seen an interesting golf story? Tell us about it!
no comments posted yet.