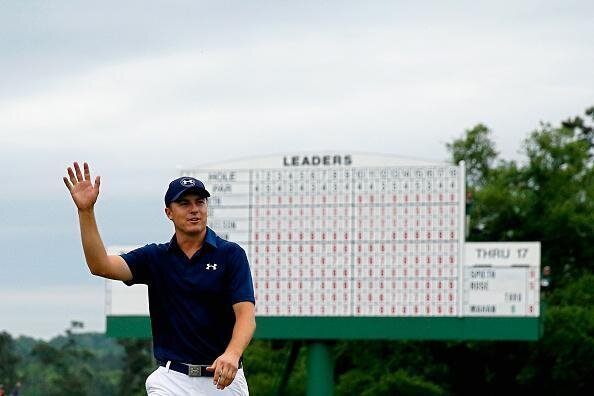 Once again, on Masters Sunday, history has repeated itself. And while
Jordan Spieth
wrote for himself some new golf history, his margin of victory was much tighter.
Three-time Masters champion
Phil Mickelson
and 2013 U.S. Open champion
Justin Rose
refused to lie down and die in the face of Spieth's four-shot lead after 54 holes. Rose cut into Spieth's lead with a two-putt birdie at the 2nd hole, but Spieth answered with a curling birdie putt at the third, restoring a four-shot lead. But at the 5th, Spieth trapped his second into the fringe, then a par-saver rolled about eight feet past. Bogey and a three-shot lead.
Then Rose made a little mess, putting his tee-shot at the 6th short and right. His pitch all the way to the opposite side of the hole, off the green. An admirable par attempt missed by six inches.
The 7th hole
One demonstration of Spieth's character came when he and Rose did battle at the third toughest hole all week — 7th hole. As he did on Thursday afternoon, Spieth blew his tee-shot way right.
But then, Rose did the same. Stymied by a large pine tree, Rose had only a narrow chute to find the fairway. Spieth also had a narrow opening and found it, miraculously splitting the two front bunkers, but also leaving an awkward stance. Using an abbreviated follow-through, Rose hit it fat, hitting at least one tree and finally stopping on firmly-packed ground in the gallery. On CBS Television, Peter Kostis opined that it would be almost impossible to get a wedge underneath the ball, but Rose picked it clean, spinning it back so well that it burned the edge of the hole! Gentleman he is, Spieth gave a thumbs-up to Rose for pulling off an amazing shot.
Meanwhile, Spieth used the back bank of the green as a backstop to coax his ball to about six feet, but missed a slippery par-saver. Rose nearly missed his, doing a 360° around the lip before it fell.
Joining the battle
One group ahead, Phil Mickelson was trying to play the opening nine in three-under par, but every time he made a birdie (2nd hole, 8th hole), he backpedaled with a bogey. At the 10th, Lefty pulled driver and hooked his tee-shot into the right rough. But from 204 yards, Mickelson ripped his approach to just four feet, canning the birdie putt.
Later, Mickelson touched off an explosion of applause when he holed out from a bunker at 15 for eagle. Not only did that tie him with Rose for second place at -14, but it forced Spieth to step away from his own putt at 14. However, that was Mickelson's last hurrah on Sunday; he played the final three holes par-par-par.
Cause for applause
Elsewhere on the course, Sang-Moon Bae eagled the 14th from about 150 yards away, using the back of the green as a backstop. The aim was perfect; it rolled into the jar.
In 1998, Mark O'Meara birdied 18 to win the Masters. On Sunday, the 58-year-old made another birdie at 18, this time to finish at (-2) 286.
World number-one Rory McIlroy finished alone in 4th place, thanks to a Sunday 66 that tied him for the lowest round of the day with emerging star Hideki Matsuyama, who finished alone in 5th place.
The second best 18-hole scores on Sunday were turned in by Ian Poulter, Hunter Mahan, Rickie Fowler, and Jamie Donaldson, all of whom shot 67.
Near-disaster for Tiger
Before Thursday afternoon, waggling tongues were insisting that Tiger's short game was infected by the yips — but instead, Woods demonstrated a strong short game, having trouble instead with the big sticks and long irons.
Near-disaster struck when nobody expected it: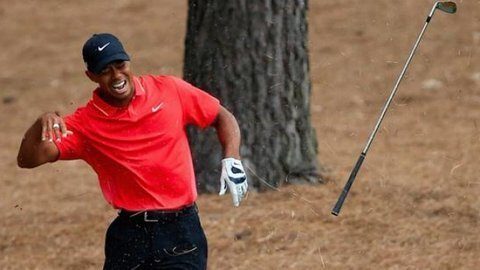 At 4:29 p.m. EDT, while playing his second shot from the pine straw at the 9th hole, Tiger Woods sustained a right wrist injury when his club struck a slightly buried tree root. Woods audibly growled in anger and pain, telling Bill Macatee later that he had to pop a bone back into its socket.
The injury almost spoiled his Sunday, but he gutted out the final ten holes. After finding his first fairway of the day at 13, Woods hit the green and then swung a right-to-lefter for eagle. But as Peter Kostis pointed out on the air, it was too little, too late for a meaningful final round run.
Back in the final group, Rose birdied 13, 14, and 15, but suffered a bogey at 18 after leaving his approach short and right.
Spieth made Masters history at the 15th hole when he lashed a long iron at the flagstick. The ball finished off the back of the green, but he pitched to seven feet and sank a seven-footer for birdie. At 6:18 p.m. EDT, Spieth advanced to a Masters record-setting -19.
Spieth and Rose matched pars at 16 and 17.
At the final hole, Spieth lost another tee-shot right and put his approach sort of the green, like Rose. Both miscues cost them bogeys, and cost Spieth a new 72-hole scoring record. But he tied Woods for the record at (-18) 270. He also made an unheard-of 28 birdies this week. Spieth won two U.S. Junior Amateur Championships; only Tiger won three. And like Woods, Spieth left college early, deciding that he was ready to work to gain status on the PGA Tour, winning shortly thereafter — with a Masters championship shortly to follow.
Spieth led the 79th Masters Tournament wire-to-wire — the first to do so since Raymond Floyd in 1976. Spieth won having only played eight competitive rounds there, in fact.
On Golf Channel, David Duval observed that during the entire week, when Spieth made a mistake, he did not follow it with another one.
As good as Spieth has been as an amateur and professional golfer, his closest friends describe him as equally solid off the course. Even at the post-tournament press conference, he was humble, not ebullient.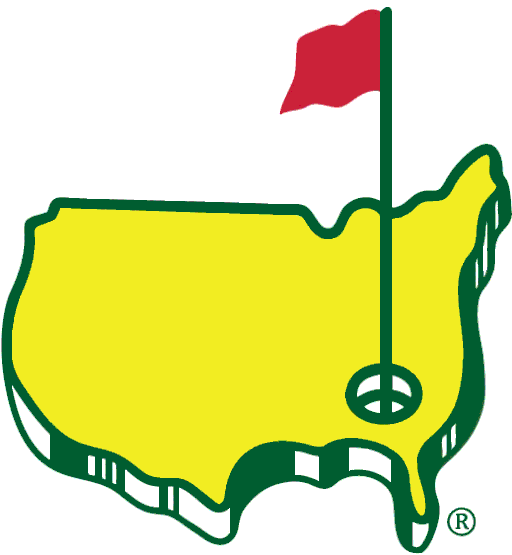 Final leaderboard
Have you seen an interesting golf story? Tell us about it!
Images via Twitter