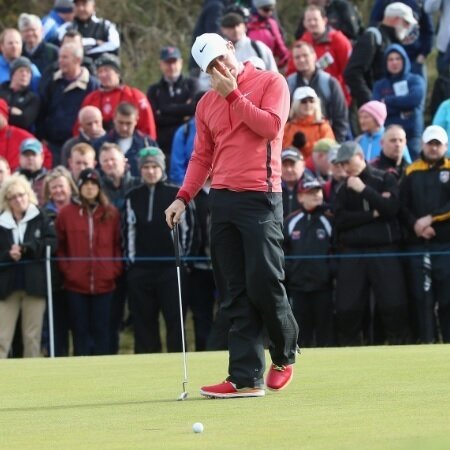 Well, this *is* uncharacteristic. And embarrassing.
In Thursday's opening round of the (deep breath, now) 2015 Dubai Duty Free Irish Open Hosted By the Rory Foundation, (resume breathing normally) McIlroy shot an 80:

To be fair, gale-force winds and incessant rain made golf miserable for some players. But Rory could not make a single birdie, let alone an eagle. Instead, Rory hit only 6/14 fairways, nine GIR, and took 36 putts en route to nine bogeys — including four straight at 15-18.
"My poor iron play led to missed greens, which led to giving myself a lot of 8- to 12-footers for pars, and that led to missing all of them," said McIlroy, who described his play as "worse as I got closer to the green."
McIlroy also told the gathered
ink-stained wretches
reporters that he might need to shoot a five-under-par 66 to make the cut. We also note with a curious glance that not only has McIlroy never contended in any of his eight Irish Open appearances, but he missed the cut in his last two tries.
We are here
not
to kick McIlroy when his game is suffering, or pour salt in his wounds. After all, golf can be a fiendishly difficult game — much more so at a course like Royal County Down, which has blind approaches that make for tough scoring. Factor in foul weather, too.
But on the very same course today, 86th-ranked Pádraig Harrington (IRE) and 290th-ranked Maximilian Kieffer (DEU) both overcame three bogeys to shoot 67. Harrington lit up the second nine with five birdies, while Kieffer notched an eagle at the par-5 12th and birdied 16 and 17.


Denmark's Søren Hansen, ranked 587th in the world, is alone in third place with a 68 that included just one bogey. Echoing Kieffer's performance, Hansen birdied both 16 and 17.
Rickie Fowler (the world's number-nine) is the highest-placed American after Thursday, in an eleven-way tie for 14th place at 71, just four back of the lead.
Have you seen an interesting golf story? Tell us about it!
Image via Twitter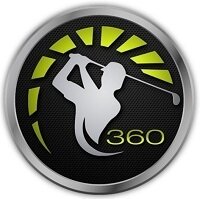 bkuehn1952 says:
Hey, I shot "81" last weekend so what is the big deal?
5/28/15

Torleif Sorenson says:
LOL! We'll be looking for you at the next Euro Tour Q-School. :-P
5/29/15