TaylorMade - Rossa TP by Kia Ma Daytona (2009)
---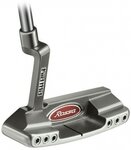 Rossa TP by Kia Ma Daytona (2009)
-
TaylorMade
Introduced in 2009, the Rossa TP Kia Ma features a CNC-milled face milled from 1018 carbon steel and TaylorMade's SUS304 face insert with the AGSI+ system. It is part of a line of putters designed by Kia Ma and includes tungsten back-sole weighting for a lower CG and higher MOI.
HEAD WEIGHT: 345 g
OFFSET: Full-shaft
HOSEL TYPE: Plumber's neck
LENGTHS: 33", 34", 35"
TOEHANG: 35°
HAND: RH
LOFT: 3.5°
LIE: 70°

Add To My Bag





Sarge2245
- 11/20/15





PercySerrano
- 5/29/14





pfflyer55
- 9/21/13





hebron1427
- 5/24/13





stephenweir
- 11/12/12





carlferguson236501
- 9/17/12





Bronco408
- 7/13/12





lsloan
- 6/2/12
Number of Users: 69
Average Handicap: 11
Overall:





Value:





Look:





Performance: