SkyCaddie - SG3
---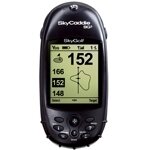 SG3
-
SkyCaddie
The SG3 automatically calculates up to 40 targets per hole, simultaneously, in less than a second. It features a large, backlit, grayscale display and can store 10 full-featured courses at one time with our advanced course management features like Hazards, Carries and Layups and IntelliGreen®. The SG3 is powered by two AA batteries.

Add To My Bag





Greensfox
- 8/22/12
Excellent tool. I also have laser gun which only shows distance to pin. Very useful knowing front/back/middle measures. The only operating problem I have had is syncing which was quickly resolved through SkyGolf tech support via their link on the internet. Would love a device which is as accurate but can update software and add courses wirelessly.





richardcoss
- 5/20/12
have 2 sg3 one for me and one for my wife
had to replace mine after on year of use and will have to replace my wifes after one year of use neither one would sync





jheadjr
- 12/11/11
To say that this thing is a "piece of junk" is an overstatement. Takes forever (if it ever does) to find a satellite signal. A bit embarassing when my budies can use their cell hone wit ease. This thing keeps searching and searching reset after reset and rarely ever gets a signal. Worthless !!!!!!!! And, the few times that it did work, it only worked when out in the clear open. Get in an area with a few trees and there will be no reception at all. Worthless !!!!!!





ncc_golfer50
- 8/20/11
I have a SG3 and love it,even @ my home course





PATTY-CAKES
- 7/27/11
Golf is a head game. Now with my sky caddie, I feel more confident in making club choices, & so now should hit better shots & make better scores!
this is just my opinion, but everyone I play with (who does not own a golf gps) is asking the yardage..........hmmmmmmm I think I made a wise choice!! It only took me to age 58 to say "I am worth it"!





Graves238
- 7/25/11
I didn''t believe this type equipment once upon a time. But now, it''s made golf about 6 shots easier; it''s taken away the guess work! All golfers need one of these!





ftegan
- 6/21/11
as a 28 handicapper the SG3 birthday prezzie has been an absolute game changer . I thought I was destined to remain a hacker through the undergrowth for life. Thanks to this lil beauty I am improving my game every course I visit .





lcuevas
- 1/13/11
I've had my SG3 for two years and have had no issues that would lead to a major concern. Once you get familar with changes or updates, it is a breeze. It sure comes in handy.
Number of Users: 432
Average Handicap: 14.6
Overall:





Value:





Look:





Performance: